Aquaform's OLEDRIAN luminaires have won yet another prize: Muuuz International Award (MIAW) 2016
---
OLEDRIAN luminaires again have been distinguished on the international market. This time Aquaform's lighting fixtures using the modern OLED technology were appreciated by the jury of the Muuuz International Award (MIAW). Following the iF Design Award 2016, this is another prestigious prize received in 2016 by the innovative product being the result of cooperation between Aquaform and the Polish designer Piotr Jagiełłowicz.
Muuuz International Award (MIAW)
Muuuz International Award (MIAW) is granted by ArchiDesignClub in cooperation with the Muuuz Magazine. ArchiDesignClub is the most prominent French organisation dealing with architecture and design. The Muuuz magazine is one of the leading magazines following the latest trends in architecture and design. It has over 100,000 subscribers all over the world. The Muuuz International Award (MIAW) is granted to the most innovative products in 6 categories in the area of architecture and design.
In 2015 the prize was awarded to 39 products from 15 countries. This year, one of the prizewinners was OLEDRIAN luminaire.
OLEDRIAN won the first place in the "Lighting" category.
OLEDRIAN luminaires: design combined with technology
The form of OLEDRIAN was inspired by the art works of Piet Mondrian. The form of the luminaire reminds of Piet Mondrian's neoplasticism artworks, with characteristic vertical and horizontal lines. OLEDRIAN horizontal and vertical aluminium plates, specially designed in Aquaform's R&D department, surround the heart of the project: source of light. The very thin (merely 6 mm)
plates making up the luminaire underline the advantages of the applied technology – light is emitted with the whole surface.
OLEDRIAN is a product that integrates design, technology and functionality. Since the luminaire provides highly dispersed light, it will best serve interiors that require delicate, soft lighting.
OLED technology in lighting
The main advantage of OLED is light characterised by very high quality. The technology, previously known mainly in relation to high-quality screens production, is characterised by
not emitting harmful UV radiation, and high colour rendering index
of the object being lit. Since
OLED panels emit light with their whole surface, they do not cause a glare effect.
What is also worth noting is the
low temperature of OLED plates operation,
thanks to that any OLEDRIAN wall-mounted or pendant lamps may be located very close to the object being lit.
--
The Muuuz International Award (MIAW) is another international prize won by Aquaform luminaires. In 2015, equilibra BALANS was granted
Red Dot Design Award 2015
. Earlier in 2016 OLEDRIAN luminaires won the
iF Design Award 2016
. Wojciech Starowieyski, the President of Aquaform, shared his view on OLEDRIAN luminaire design:
"A perfect luminaire is a combination of form and technology. The combination should be a response to users' needs. It was the synergy of form, function, technology and light source that was our aim in designing the OLEDRIAN line."
What should be the main assets of the perfect lighting?
asked us Muuz Magazine.
Check out the answer in short interview with Wojciech Starowieyski, CEO Aquaform
.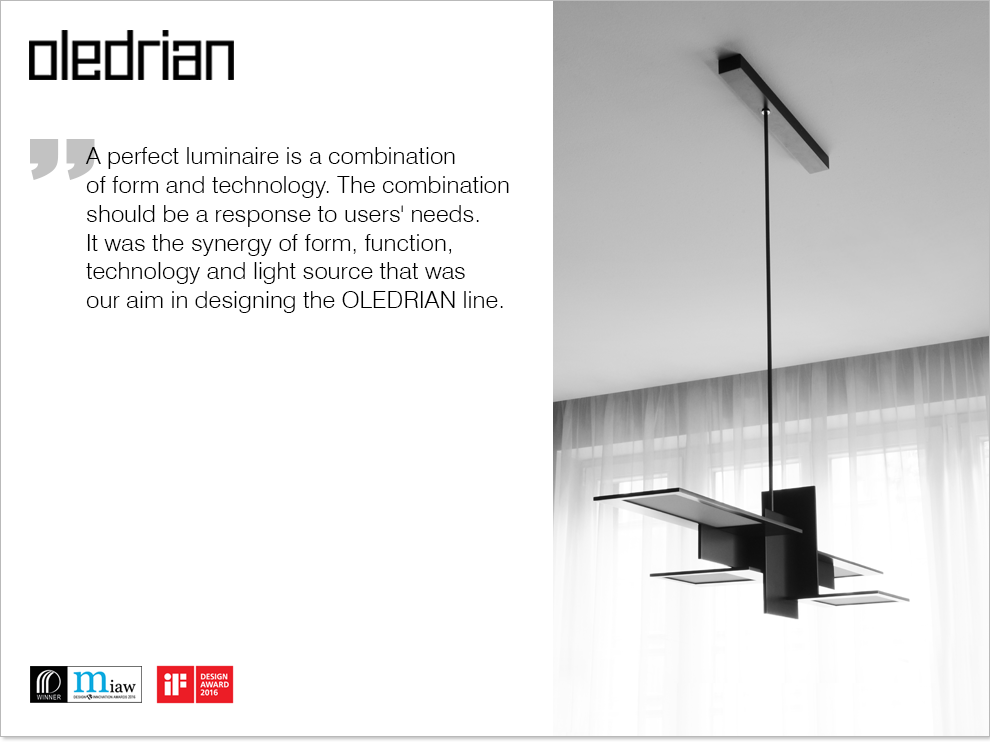 ^