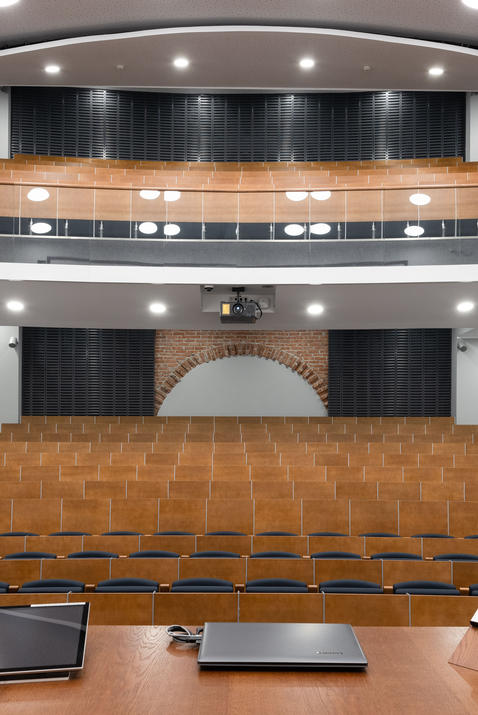 Modernization of the auditorium hall of the Faculty of Law and Administration of the Jagiellonian University, Larisch Palace
Location — Kraków
Photographer — Bartłomiej Senkowski
Interior design — BLACKHAUS Karol Ciepliński Architekt
Modern auditorium interior with lighting control system
A modern student-friendly place is a proposal of the Blackhaus architectural office, which undertook the modernization of selected spaces in the historic Larisch Palace in the very heart of Krakow. An important element of the interior design was the selection of high-quality light necessary for learning, compatible with the lighting control system.
Modern university interior
The investor was the Faculty of Law and Administration of the Jagiellonian University in Krakow, which was primarily concerned with improving the comfort and quality of students' learning, as well as giving the place a modern character. The auditorium with an area of 264m², the lecture hall and three communal bathrooms on the ground floor have been modernized.
All the equipment was dismantled and replaced with new ones, in addition each of the student stations was equipped with an electric socket and a USB port. In order to improve visibility, the steel balustrades were replaced with lighter ones, made of tempered glass, which additionally made the whole form light and transparent. The room has been adapted to the needs of people with disabilities, including those in wheelchairs
- says architect Karol Ciepliński.
The neutral gray colour of the hall was combined with the walnut shade of wood on the mounted seats and other equipment. Six shades of gray on the walls surrounding the auditorium emphasize the existing geometry of the hall.
Modern lighting goes hand in hand with minimalism
Architects took care of lighting adjusted to current standards. The main task of the selected light solution was to improve the experience of students and lecturers using the auditorium.
For the modernized space, lighting calculations were made taking into account the standards for auditorium facilities. We wanted minimalistic fittings that do not constitute a contrast to the existing space and the geometry of the ceiling, but form a single, coherent whole with them. Simple geometric shapes of a circle perfectly harmonize with the curves of the acoustic ceiling. The assumptions were achieved thanks to the chosen lighting by AQForm
- explains architect Karol Ciepliński.
MAXI RING LED and RING LED – the choice of Blackhaus studio
The project uses recessed ceiling luminaires, suspended MAXI RING LED 64W 4000K in the DALI version, and suspended RING LED 16W 4000K in the same version. The cool colour temperature of 4000K makes it easier to stay effective and focused during lectures. On the other hand, the ability to control the lighting in the DALI system in the entire space of the auditorium allows you to easily adjust the lighting to changing conditions. Switching off, switching on, dimming or activating an appropriate, pre-programmed light sequence improves the use of modern lecture spaces.
Products
used in project
Meet interior designers
BLACKHAUS Karol Ciepliński Architekt
Biuro architektoniczne Blackhaus to krakowska pracownia prowadzona przez architekta Karola Cieplińskiego. W zakres oferowanych usług wchodzą zarówno projekty architektoniczne, jak i wnętrza prywatne i użyteczności publicznej.