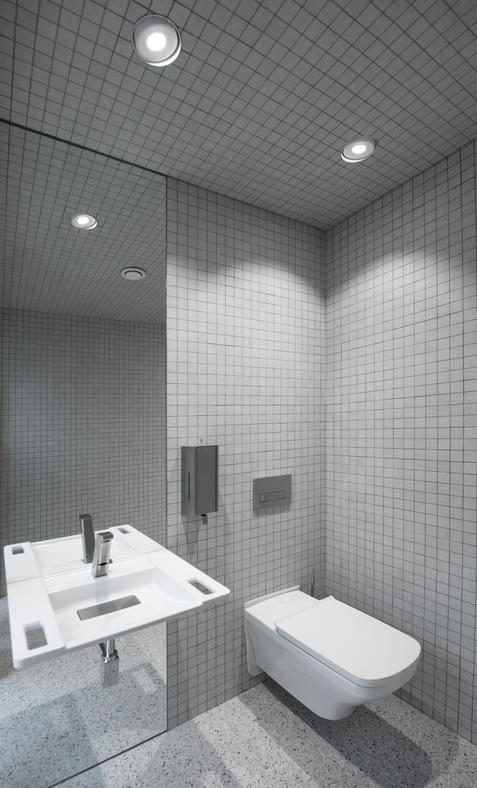 Stomatologia Nadolna / Stomatology Nadolna
Location — Bytów
Interior design — LOFFT ARCHITEKTURA Małgorzata Hendrych-Lubińska
Minimalistic design of the dental office
Medical offices, especially dental ones, are associated with sterility and usually lack of design or sophisticated decor. The LOFFT architecture studio in its project of a minimalistic interior of dental offices proves, that minimalism, design and functionality can go hand in hand. The futuristic dentist's office with technical lighting in the background makes a big impression
Modern interior colours inspired by the company's visual identification
The works included adaptations of an old building – a tenement house in the city center – and interior design. On 180m² three treatment rooms, a reception and a waiting room are situated. The inspiration in this project was the focus of the dentist's practice – the construction of the oral cavity with dentition. Elements of inspiration can also be seen in the black undulating wall on the reception desk and in the line on the ceiling that appears in the company's logo as well. It leads to individual offices, and at the same time creates the entire tooth shape, which is also visible in the logo. The company's visual identification was the inspiration for the modern interior colours. The interior features shades of pink, purple and red.
Dental office lighting
The selection of lighting in this type of project is a very important issue, as it significantly affects the comfort of work and the quality of services.
The technical lighting and its parameters were selected together with AQForm experts. I wanted lighting that would perfectly fit into the designed space, while also is able to illuminate the interior well. Together, we decided that the RING 111 QRLED luminaire, awarded with the German Design Award 2018, would be the best choice" – says Małgorzata Hendrych-Lubińska, an architect from LOFFT.
-
The interior has been designed and created to be aesthetic, functional and minimalistic, yet at the same time showing the specificity of the office activity with developed visual identity.
RING 111 QRLED – the choice of the LOFFT studio
The lighting RING 111 QRLED trimless recessed used in the interior design refers to the soft lines in the entire project. Elements of recessed lighting in the ceiling do not interfere with the functionality of the offices. Thanks to the recess of the lighting in the ceiling, it is easier to maintain hygienic conditions and aesthetic consistency in medical facilities.
Products
used in project
Meet interior designers
LOFFT ARCHITEKTURA Małgorzata Hendrych-Lubińska
Pracownia LOFFT świadczy usługi w zakresie architektury i krajobrazu. Oferuje wykonawstwo budowlane oraz wykończenie projektowanej przestrzeni. Biuro projektowe istnieje na rynku od 2005 roku.
Show us your project, where our lighting was used!
Photos are the best source of inspiration. It is also a credible evidence of successful projects. That is why sharing photos gives us great joy!
Do you want to show the world your project, which uses AQForm lighting? Click the button below, send photos along with a brief information about the realization, and we will take care for the rest. :)
Your project may appear on our inspiration page, on social media, in print or even in recognized interior design magazines among other places. Make your project an inspiration for new, well-lit interiors!
send your project