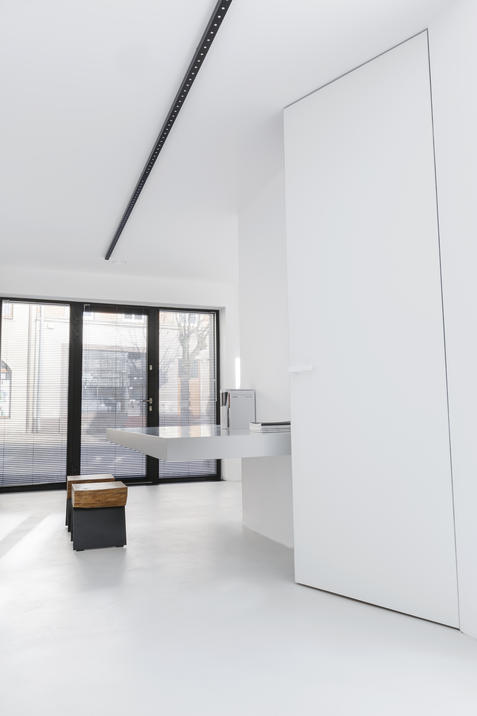 LOFFT ARCHITEKTURA office
Interior design — Małgorzata Hendrych-Lubińska
Minimalistic design of a well-lit office
The new office of LOFFT studio is an original project made by architects, who knew best how to create a functional office tailored to their needs. They took care not only of the décor and sophisticated accessories, but also the lighting necessary for effective and creative work.
The company's headquarters with an area of 160 m² located in Bytów, is surrounded by tenement houses from the 19th and 20th centuries. The two-storey tenement house required renovation both from the outside and inside the building, where an office for architects from the LOFFT studio was designed.
Monochrome forms and functionality
Minimalism and monochrome forms are main values of the studio. No wonder that they are also visible in their original office design, which includes: functionality, careful selection of materials, a well-thought-out lighting design and white and black colours referring to the company's logo.
A studio's business card with AQForm lighting
The interior has been designed in a way it is both a background for emerging projects and does not to affect the investor's concepts or temporarily succumb to fashions and trends. The office of LOFFT studio is a showcase of their work and style. Functional, ergonomic and pleasing to the eye. The interior has several characteristic elements: stairs, island-table (where ideas are developed with clients) and lighting necessary for the effective work of architects.
It is worth paying attention to the black line of lamps, which indicates the division into the functional layout of the interior, which we particularly wanted. Here, the six-meter line of the LENS LINE lamp from AQForm turned out to be invaluable, as it accompanies the entire building." – says architect Małgorzata Hendrych-Lubińska.
-
LOFFT studio chose: LENS LINE
The project uses system lighting MIXLINE LED system surface and linear LENS LINE LED section suspended with a light-emitting diode. The collection allows four ways of assembly. By adding various angles of light to the lamp, we get a universal proposal with which you can design accent lighting, decorative lighting and functional general lighting.
Products
used in project
Meet interior designers
Małgorzata Hendrych-Lubińska
Show us your project, where our lighting was used!
Photos are the best source of inspiration. It is also a credible evidence of successful projects. That is why sharing photos gives us great joy!
Do you want to show the world your project, which uses AQForm lighting? Click the button below, send photos along with a brief information about the realization, and we will take care for the rest. :)
Your project may appear on our inspiration page, on social media, in print or even in recognized interior design magazines among other places. Make your project an inspiration for new, well-lit interiors!
send your project