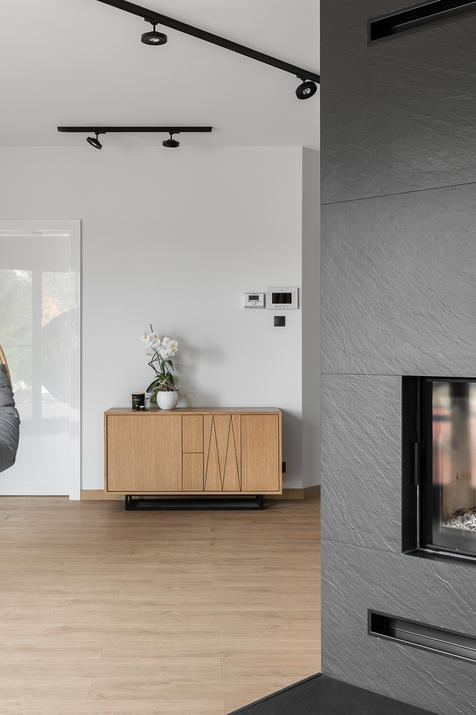 Dom nad Jeziorakiem
Location — Szałkowo
Interior design — Studio Projekt
A minimalistic interior in a cozy edition – the Projekt Studio arrangement
Minimalism is a design direction that we can equate with timelessness. Simplicity is conducive to the everyday use of space. At the same time, it is not only in line with long-term trends, but above all it is designer and functional. House by Jeziorak arranged by Studio Projekt is a minimalistic interior with an accent of modernity, including wooden lamellas and lighting fittings from the KARI collection.
House by Jeziorak – 150m² of aesthetic functionality
The house consists of 9 rooms, including a vestibule, a corridor, a spacious living room with a nice kitchen, a cozy bedroom with a comfortably designed wardrobe, two bathrooms, a study room and a kingdom of fun – children's room.
White is the basis for beautiful shades of gray and characteristic graphites. Decorative elements in blue colours enliven the interior. Black light fixtures are a colour breaker. It is a modern emphasis on the charm of minimalism with a designer edge.
The choice of lighting for the interior
Lighting is an important element of any interior design. It emphasizes the character and highlights the details that are the essence of the arrangement. When choosing lighting solutions, it is worth considering aesthetic, practical and economic aspects. An interesting way to obtain the original play of light and shadows is the use of tracks. They are the perfect lighting base for the entire space. Placing several luminaires on the rail contributes not only to the even illumination of the room, but also to the possibility of adjusting the light points. As a result, the lighting can be easily adapted to the individual preferences and current needs of space users.
KARI from AQForm
What solutions are most often used by designers? Timeless and bold! They also meet with the greatest approval of investors. It was no different in this case – the black KARI LED track, as well as the construction on which they were mounted, look great against the background of subtle colours. What's more, they perfectly match the intentions of the interior design, emphasizing the temperament hidden in it.
Products
used in project
Show us your project, where our lighting was used!
Photos are the best source of inspiration. It is also a credible evidence of successful projects. That is why sharing photos gives us great joy!
Do you want to show the world your project, which uses AQForm lighting? Click the button below, send photos along with a brief information about the realization, and we will take care for the rest. :)
Your project may appear on our inspiration page, on social media, in print or even in recognized interior design magazines among other places. Make your project an inspiration for new, well-lit interiors!
send your project