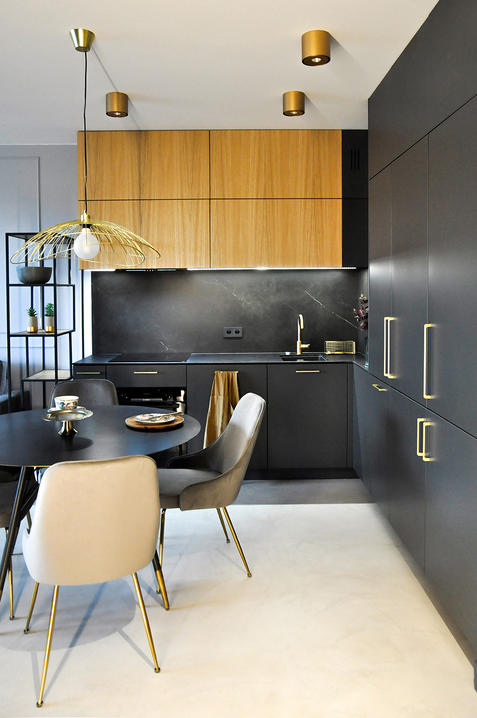 ZYNDRAMA
Location — Wrocław
Photographer — Mauve
Interior design — Mauve
Apartment with AQForm lighting in Wrocław
How to describe an apartment located in Wrocław designed by the MAUVE studio? Class, contrast and strength in symbiosis with comfort, warmth and functionality. What makes the interior both elegant and cozy? It is certainly influenced by the choice of colours and lighting fixtures! What else does the Wroclaw apartment hide?
A moody interior created by lighting
Designers from the MAUVE studio believe that the atmosphere in the interior can be achieved with the help of light. That is why they decided to use a lot of lighting points in the project and in each room they tried to create a different mood using different types of lamps. The role of light varies depending on the type of interior. Bedroom has toned and soft lighting, which allows reading in bed. Relaxing but also stimulating to action light was placed in the living room. Warm colours, wood, fabric upholstery and curtains, as well as lighting, add coziness to this interior. The light points placed in each room create various combinations of the play of warm-coloured lights. When the sun goes down, the interior continues to make the household members feel positive.
In addition to the main lighting, we decided to choose decorative lighting. We chose the TUBA 111 QRLED luminaires with a golden finish, which we installed in the company of suspended lamps that give unrestricted and soft light from decorative bulbs " – says the architect from the MAUVE design studio.
-
TUBA 111 QRLED – the choice of MAUVE architects
The architects used the TUBA 111 QRLED surface in gold colour, which combines elegant minimalism with a geometric form and high-quality light. Thanks to the high colour rendering index, the colours in the light of TUBA 111 QRLED remain vivid and pleasing to the eye. The precise light of this luminaire effectively lights up paintings or flowers.
Products
used in project
Meet interior designers
Mauve
Studio projektowe MAUVE zajmuje się projektowaniem wnętrz oraz nadzorowaniem etapów realizacji swoich projektów. Projektanci chętnie polecają zaufanych podwykonawców oraz wyręczają inwestorów w zamawianiu materiałów wykończeniowych. W zakres oferowanych usług wchodzi również doradztwo na etapie wyboru nieruchomości.
Show us your project, where our lighting was used!
Photos are the best source of inspiration. It is also a credible evidence of successful projects. That is why sharing photos gives us great joy!
Do you want to show the world your project, which uses AQForm lighting? Click the button below, send photos along with a brief information about the realization, and we will take care for the rest. :)
Your project may appear on our inspiration page, on social media, in print or even in recognized interior design magazines among other places. Make your project an inspiration for new, well-lit interiors!
send your project