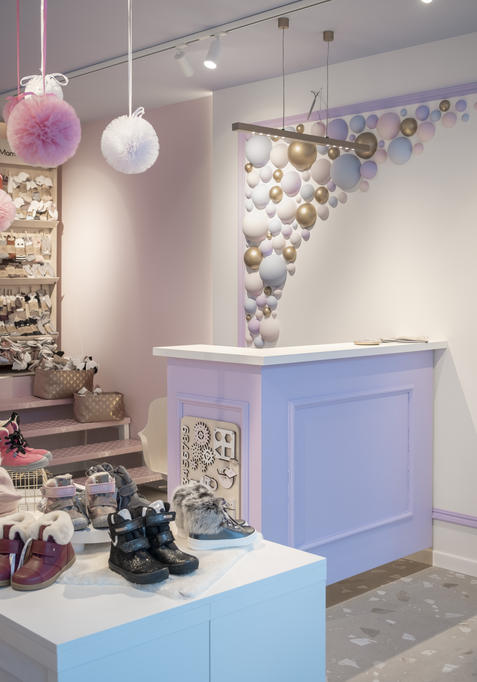 Bubutik - sklep z butami dla dzieci
Location — Zielona Góra
Photographer — Krzysztof Strażyński STUDIO
Interior design — FANAJŁO Home Design Decor, Katarzyna Fanajło
An idea for shop lighting: a colourful space created with the youngest in mind
The design of a store with footwear for children requires taking into account the colourful preferences of the youngest and the functionality of the space that both parents and interior owners expect. A compromise between the expectations of children and adults is the Bubutik from Zielona Góra, designed by Katarzyna Fanajło from the Fanajło Home Decor studio. The pastel colour palette is illuminated by carefully selected AQForm lighting fixtures, which have a positive effect on the functionality of the commercial interior.
How to arrange a children's shoe store
The arrangement of the children's shoes store Bubutik is a tribute to kids who are to feel inside as if they are in a kingdom of fun. It is a space full of subdued colours and cozy accessories. The coloured hemispheres on the wall are associated with soap bubbles, and the pompoms resemble cotton candy. There are also functional elements of equipment in the interior. It is worth paying attention to the white furniture for displaying the assortment, the seat for measuring shoes, as well as toys that will occupy children when their parents are busy paying.
The practical side of the project is, among other things, a warehouse hidden behind a curtain, as well as a counter that allows convenient operation. The architect did not forget about the appropriate lighting of the space, which was supported by AQForm luminaires.
A minimalistic luminaire from the LENS LINE collection in Katarzyna Fanajło's design
When creating the project, good lighting of the shop window was also crucial. Lighting elements ensure that the interior attracts attention and stands out among other stores. Thanks to the well-lit exhibition, we managed to create an atmosphere that invites you to enter from the street - says Katarzyna Fanajło.
-
The lighting gem in this design is undisputedly a gold, minimalistic luminaire from the LENS LINE LED section suspended, which illuminates the counter, adding elegance without dazzling buyers. The simple design fits perfectly into the candy interior, bringing an air of subtlety to it, which is complemented by PET next LED track spotlights and functional tracks.
Products
used in project
Meet interior designers
FANAJŁO Home Design Decor, Katarzyna Fanajło
Show us your project, where our lighting was used!
Photos are the best source of inspiration. It is also a credible evidence of successful projects. That is why sharing photos gives us great joy!
Do you want to show the world your project, which uses AQForm lighting? Click the button below, send photos along with a brief information about the realization, and we will take care for the rest. :)
Your project may appear on our inspiration page, on social media, in print or even in recognized interior design magazines among other places. Make your project an inspiration for new, well-lit interiors!
send your project