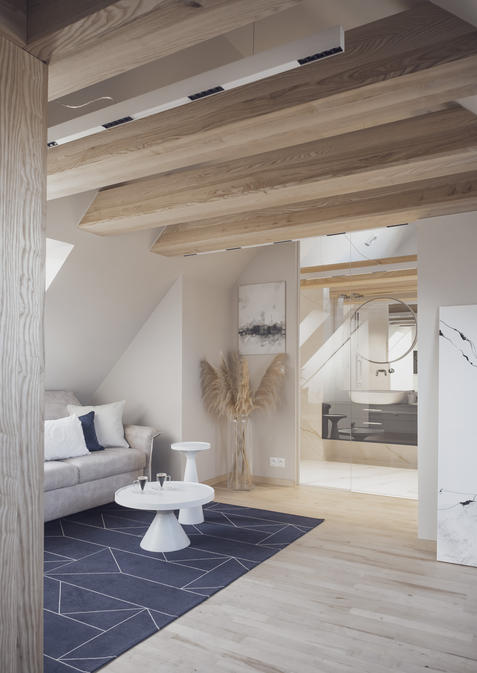 mieszkanie prywatne
Location — Zielona Góra
Photographer — Krzysztof Strażyński STUDIO
Interior design — Fanajło Home Design Decor
An idea for an attic apartment – Fanajło Home Design Decor
The attic apartment in Zielona Góra is a synonym of openness of the owners expressed in a cozy, warm arrangement that combines wood, beige, white and a bit of sparkle. The modern interior has been softened with boho-style decorations and emphasized with modern lighting. It must also be admitted that the architect Katarzyna Fanajło from Fanajło Home Design Decor perfectly coped with the slants in this space.
Functional attic space
Apart from the slants, the location of the risers and the variety of windows turned out to be a challenge in the interior. The first design step was to unify and soften the space. That is why round shapes dominate here, i.e. mirrors, spherical lighting fixtures, as well as a round table. The whole was complemented by beige and white, as well as patterned wallpapers which optically increase the room, and glazing in the attic which visually enlarge the apartment. The lighting was also important.
PET next and RAFTER light up the attic
In the apartment design, AQForm luminaires are in the lead, thanks to which the space is well-lit. The minimalistic fixtures perfectly interfere with the boho style. The play of lights and shadows in the bedroom is ensured by tracks with PET next LED multitrack luminaires RAFTER points LED section suspended linear lighting. These are solutions that are not only practical to use – their designer, elegant appearance is also a special feature.
Products
used in project
Meet interior designers
Fanajło Home Design Decor
Show us your project, where our lighting was used!
Photos are the best source of inspiration. It is also a credible evidence of successful projects. That is why sharing photos gives us great joy!
Do you want to show the world your project, which uses AQForm lighting? Click the button below, send photos along with a brief information about the realization, and we will take care for the rest. :)
Your project may appear on our inspiration page, on social media, in print or even in recognized interior design magazines among other places. Make your project an inspiration for new, well-lit interiors!
send your project