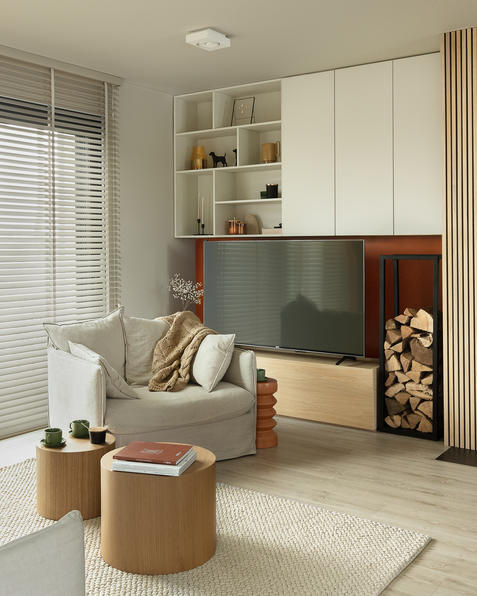 Dom
Location — Górki k/Opola
Photographer — Mikołaj Dąbrowski
Interior design — pracownia FABRYK-ART Agata i Maciej FERENC
Natural harmony with a brick accent
A house with a garden in Górki near Opole is a family asylum for a married couple with three sons. A spacious dining room plays an important role in this space, there is also a large living room, a bedroom and children's rooms, as well as a recreation area. The impression of the naturalness of the interior was emphasized by AQForm luminaires, while the design was created by the FABRYK-ART studio.
Nature with a brick accent
The main theme of a family house of five is universal colours, such as beige, white and gray. Cozy complementation are wooden accents, such as lamellas on the walls in the vestibule, on the fireplace casing and in the bedroom. Another natural motif is a presence of plants. It is also worth paying attention to the arrangement contrast in the form of a brick colour, which appears, among others, in curtains, cushions on the sofa, on the wall with a TV set and in the kitchen.
The finishing materials with a natural style also include the timeless lastrico in a light and dark version. Subdued colours and consistency with the rest of the arrangement are also the leitmotif of children's rooms, although it must be admitted that this space is definitely ruled by kids and their toys, teddy bears and books. The strong point of the kingdom of the youngest inhabitants of the house in Górki is the fact that the interior can be quickly adapted to the needs of adolescent children.
The SLEEK line in a natural interior
"A special feature of the project is the use of the same lighting fixtures throughout the house. The obvious choice were double and single luminaires from the SLEEK line of the Polish brand AQForm in the surface-mounted and recessed versions" - emphasizes Agata Chomiak from the FABRYK-ART studio.
-
Lighting with a colour temperature of 3000K does not tire the eyesight, and its pleasant light makes the household members more refreshed and at the same time positively tuned towards every day challenges. SLEEK luminaires, characterized by a modern design, subtly fit into the natural harmony of the design created by the FABRYK-ART studio.
Products
used in project
Meet interior designers
pracownia FABRYK-ART Agata i Maciej FERENC
Show us your project, where our lighting was used!
Photos are the best source of inspiration. It is also a credible evidence of successful projects. That is why sharing photos gives us great joy!
Do you want to show the world your project, which uses AQForm lighting? Click the button below, send photos along with a brief information about the realization, and we will take care for the rest. :)
Your project may appear on our inspiration page, on social media, in print or even in recognized interior design magazines among other places. Make your project an inspiration for new, well-lit interiors!
send your project