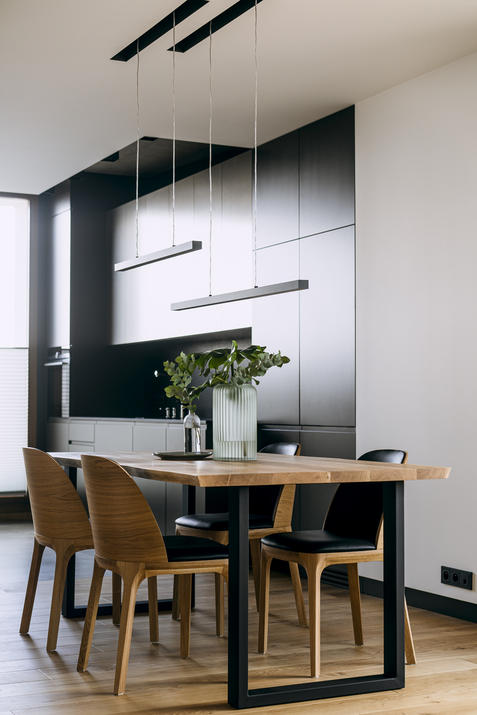 private apartment 170m2
Location — Warszawa
Photographer — Pion Studio
Interior design — Lys Studio
The idea for an interior inspired by Japanese minimalism
Simple, functional and comfortable – is the interior created by the architect from Lys studio. In this project, the most important thing was to create a space of relaxation and relief that investors will experience after a hard day on the film set. The inspiration was Japanese minimalism, complemented by moody lighting from the AQForm brand.
Inspirations: functional solutions and Japanese minimalism
The apartment designed by architect Magdalena Kanik has 170m². Investors wanted its interior to be functional, simple in form and to be able to comfortably spend time in it, both relaxing and working.
One of the inspirations in the project was the building itself, created by designers from the JEMS studio. It is a simple, cubist, horizontally stretching block, where the colour palette of materials used outside is continued inside. The inspiration was also Japanese minimalism, the idea of which was close to the expectations of investors and the aesthetics of the architect.
The role of lighting in the interior
Investors work on film sets on a daily basis and cooperate with scenographers, so light was an important aspect for them – both natural and artificial. Thanks to the large windows and two skylights, the entire space of the apartment has been perfectly lit. Artificial light in each of the rooms has been divided into zones allowing free use of the separated spaces. Linear light creates a relaxing atmosphere, recessed spotlights add a theatrical character and ceiling lamps introduce an element of minimalism into the interior.
When choosing lighting fixtures, I used, among others, the AQForm brand. The simple design of the MIXLINE series perfectly matches the aesthetics of the project. It offers recessed, surface-mounted and suspended variants. Each of them has found its place in the designed interior. An important aspect that prompted me to choose MIXLINE are very good lighting parameters of the luminaires and the possibility of their modification. Each luminaire has been individually tailored to the needs of a given interior and investor's preferences" – says architect Magdalena Kanik.
-
MIXLINE – the choice of Lys studio
The project uses lighting fixtures MIXLINE LED recessed and SET RAW mini LED suspended, characterized by a simple design, minimalistic look and the possibility of modifying lighting parameters.
Products
used in project
Show us your project, where our lighting was used!
Photos are the best source of inspiration. It is also a credible evidence of successful projects. That is why sharing photos gives us great joy!
Do you want to show the world your project, which uses AQForm lighting? Click the button below, send photos along with a brief information about the realization, and we will take care for the rest. :)
Your project may appear on our inspiration page, on social media, in print or even in recognized interior design magazines among other places. Make your project an inspiration for new, well-lit interiors!
send your project