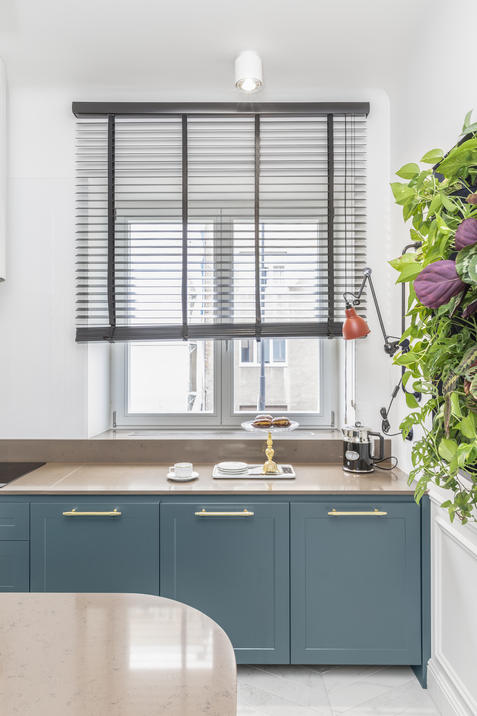 pracownia
Location — Łódź
Interior design — Hanna Pietras Architects
Tenement-modern compromise in a shade of deep green
A residential interior by design, and today a 130m² studio and showroom in a tenement style – have a look at the realization by the architect Hanna Pietras, whose classic and innovative style is supported by AQForm luminaires. The whole is complemented by a shade of deep green, which enhances the atmosphere of timeless elegance, so characteristic of the tenement houses interiors.
Less is more
When creating the interior of the studio and showroom, architect Hanna Pietras was guided by the less is more idea. This is why the green colour of nature has been combined with universal white, natural stone and large-format marble plates. The stone elegance is complemented by decorations on the walls, flora and modern lighting.
"I decided to use white light with a colour temperature of 4000K. Thanks to this, the lighting does not distort the colours, and is also natural and diffused. When choosing the lighting, I was guided by the functionality of the solutions, because the selection of luminaires tailored to the client's needs should be the leitmotif of each project" - emphasizes Hanna Pietras.
-
TUBA surface-mounted luminaires in a tenement interior
TUBA distance 111x1 surface ceiling-mounted luminaires, which provide strong spotlight, are responsible for lighting the kitchen space. Their minimalistic design harmonizes well with the tenement interior, perfectly illuminating every detail and emphasizing the elegance of the studio and showroom.
Products
used in project
Show us your project, where our lighting was used!
Photos are the best source of inspiration. It is also a credible evidence of successful projects. That is why sharing photos gives us great joy!
Do you want to show the world your project, which uses AQForm lighting? Click the button below, send photos along with a brief information about the realization, and we will take care for the rest. :)
Your project may appear on our inspiration page, on social media, in print or even in recognized interior design magazines among other places. Make your project an inspiration for new, well-lit interiors!
send your project