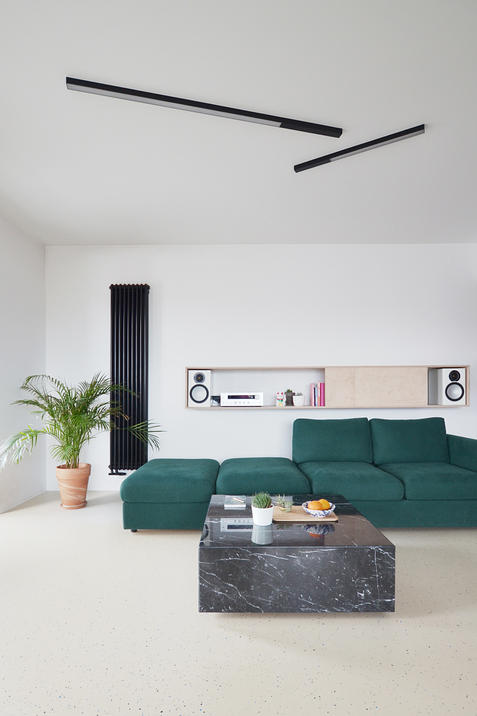 Mieszkanie na Sztauwajerach
Location — Katowice
Interior design — Grzegorz Layer Architekt
Modernism in the interior – when colour meets functionality
A space that surprises with colour and functionality – the design of such an interior was prepared by architect Grzegorz Layer for young investors and their two pets. At the design stage, there were many bold ideas, and the whole arrangement was completed by minimalistic lighting from AQForm.
Colour and texture – a harmonious duo
One of the main guidelines in this project was to create a bright and well-organized space. To make the apartment seem spacious, the architect focused on bright surfaces of walls and floors and furniture in a horizontal arrangement. Despite the predominant white colour, other colour accents also play a large role in separating individual zones in the apartment.
"Colourful walls accentuate and distinguish zones, adding intimacy. Stone lining in the kitchen and bathroom protect the walls from moisture and dirt, and the wooden furniture fronts are practical and age nobly. Choosing the right shades and textures is always a work of checking and comparing samples, but most natural materials combine well with each other" – says architect Grzegorz Layer.
-
Flora and lighting
The apartment is enriched with a large number of plants that enliven the interior and subtly match its aesthetics. An important element complementing the arrangement is also lighting. The elegance of the living area is achieved by the minimalistic and very modern SET RAW mini LED surface-mounted luminaires from AQForm, which have been arranged in an asymmetrical set.
"The interior designed in this way creates a remarkable and original composition in which colour meets functionality. Lighting significantly enriches the design, adding an unusual and subtle atmosphere to it, which was achieved thanks to AQForm luminaires" – adds the architect.
-
SET RAW mini LED – selection by Grzegorz Layer Architekt
The project uses luminaires SET RAW mini LED surface characterized by an original, asymmetrical layout, minimalistic design and high-quality workmanship.
Products
used in project
Show us your project, where our lighting was used!
Photos are the best source of inspiration. It is also a credible evidence of successful projects. That is why sharing photos gives us great joy!
Do you want to show the world your project, which uses AQForm lighting? Click the button below, send photos along with a brief information about the realization, and we will take care for the rest. :)
Your project may appear on our inspiration page, on social media, in print or even in recognized interior design magazines among other places. Make your project an inspiration for new, well-lit interiors!
send your project