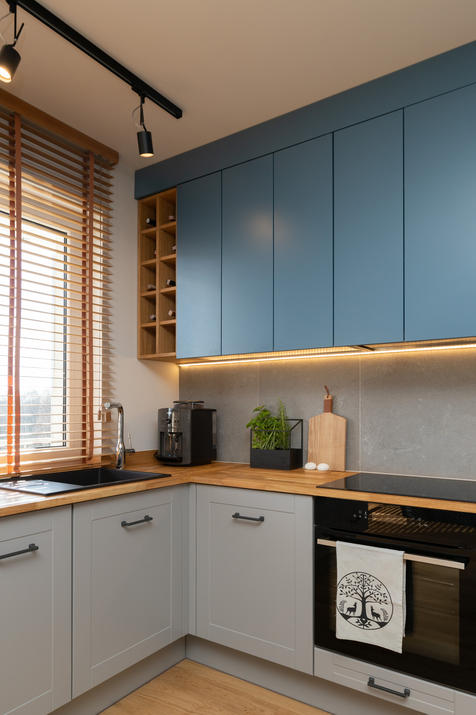 Location — Poznań
Photographer — Krzysztof Czechowski
Interior design — Agnieszka Tyma, Tyma Projekt
Arrangement of an apartment for a traveler, where lighting adds character
An apartment for a person who loves to travel must be an oasis of peace and relaxation. After all, this is the place we come back to from our trip. The architects from Tyma Projekt designed an apartment that offers a space for relaxation, in which the lighting is a clear highlight of the arrangement.
A 75-meter flat, which consists of: a living room with a kitchen, a bedroom, a guest room, a dressing room and a bathroom, is a large space that requires a well-thought-out design. The colours of the apartment refer to the places visited by the investor. The blue, which has been carefully matched from the colour chart, reflects the colour of the ocean. The colour of the walls imitates the sand, and the shade of oiled wood symbolizes the colour of sun-scorched earth.
Lighting as an element which emphasizes the interior design
The apartment is decorated in a minimalistic style. One of the few decorations in the interior are ebony figurines, brought by the investor from Africa. Lighting is also a specific decoration, an indispensable part of the apartment design. By choosing spotlights (sometimes referred to as "spots"), architects break the popular belief that light should always be diffused and evenly distributed.
In this project I used many light sources, including PETPOT spotlights from the AQForm, due to the fact that they give interesting visual effects on the walls, thanks to the possibility of directing the light in different directions" - says the architect from the Tyma Projekt studio.
-
PETPOT - shapely spotlights with the possibility of movement
The project uses PETPOT track spotlights which, thanks to the possibility of directing them in the selected direction, allow you to focus light on the selected object or part of the apartment. Thanks to this, the light is exactly where we want it to be. The whole is complemented by wall lighting – small lamps on the wall are the perfect recipe for a pleasant evening mood.
Products
used in project
Meet interior designers
Agnieszka Tyma, Tyma Projekt
Architekci z Tyma Projekt zajmują się projektowaniem wnętrz komercyjnych i prywatnych. W skład zrealizowanych projektów wchodzą mieszkania, domy i restauracje. Każdy projekt wymaga indywidualnego podejścia i wielogodzinnych spotkań z klientem. Tyma Projekt stawia na projekty odzwierciedlające pasje i styl życia, jednocześnie uwzględniając wszelkie wytyczne inwestorów.
Show us your project, where our lighting was used!
Photos are the best source of inspiration. It is also a credible evidence of successful projects. That is why sharing photos gives us great joy!
Do you want to show the world your project, which uses AQForm lighting? Click the button below, send photos along with a brief information about the realization, and we will take care for the rest. :)
Your project may appear on our inspiration page, on social media, in print or even in recognized interior design magazines among other places. Make your project an inspiration for new, well-lit interiors!
send your project