Subtle and effective: recessed luminaires
---
Discreet, aesthetic, and at the same time effective and functional. Discover recessed luminaires that can be successfully used - mainly in passageways, corridors, offices, halls and all kinds of spacious interiors. The minimalist design and the geometric form mean that these luminaires do not overwhelm other elements of the arrangement, but are its subtle decoration. Lighting that ensures visual comfort and is efficient and cost-effective at the same time - get to know the SIRCA, HOLLOW and MORE recessed luminaires!
Efficient, cost-effective and aesthetically pleasing - is it even possible?
The lighting system in a spacious interior, such as a passage or hall, requires the selection of appropriate products. Here, not only uniformity and high luminous efficacy are important, but also durability and economy. Luminaires must therefore be efficient, and at the same time they must not ruin the budget. How to combine these two aspects?
The inconspicuous, yet effective SIRCA - a luminaire optimized for spacious interiors comes to the rescue. High luminous efficacy with a beam angle of 50 ° -60 ° and a flux of approx. 1500lm with CRI> 90 allows for the use of a relatively small number of luminaires for effective lighting, even in a spacious interior. As a result, we get great value for money, while maintaining the highest uniformity and light efficiency.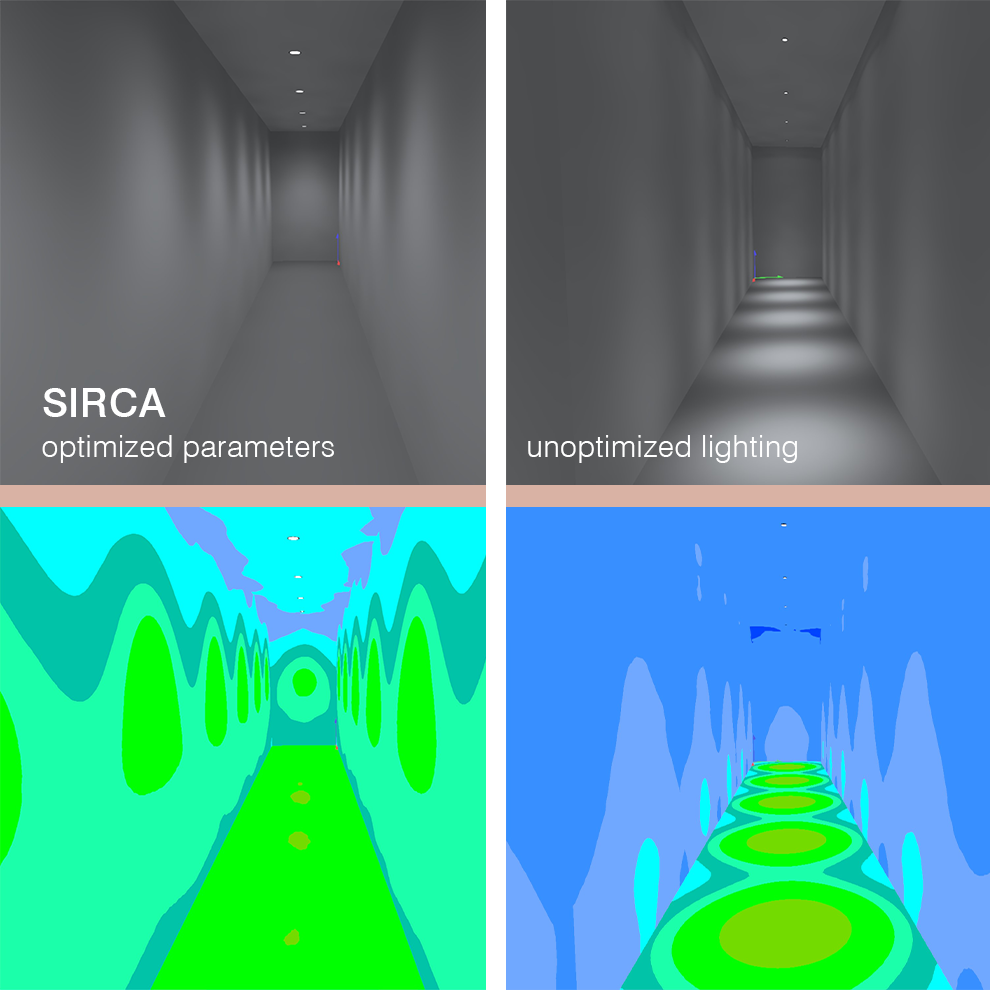 It is also good to know that for SIRCA luminaires it is sufficient to have 45-55mm mounting height (the specific minimum height depends on the selected diameter of the luminaire). With its optimized parameters, SIRCA will be perfect for any interior where, in addition to comfort, high efficiency of the luminaire is an important factor.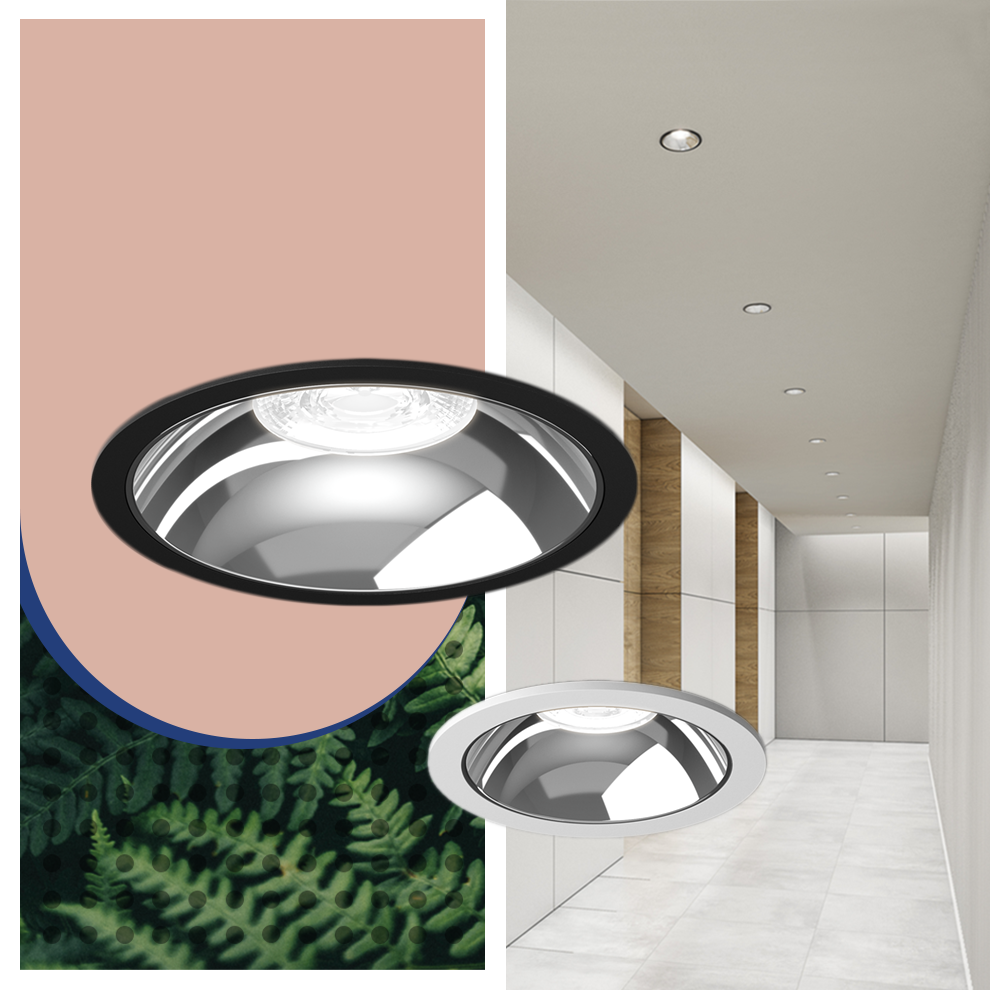 MORE, effective general and accent lighting
When looking for a single solution that combines the functionalities of general and accent lighting, it is worth paying attention to the MORE luminaire. It will be perfect for spaces with high requirements for visual comfort, such as offices, thanks to the easy to achieve UGR<19. The discreet form and very good lighting parameters make fixtures such as MORE a frequent choice for lighting private spaces.
The tilted lamp makes MORE not only safe to mark the way in a dark corridor, but also effectively emphasize a stylish detail in the form of a decorative poster or a plant. Various sizes and three variants of the luminaire offer a luminous flux range from 400 to 1,200 lm and a choice of beam angle of 25°, 36° and 61°. The variety of parameters makes the MORE luminaires easy to match with the required lighting function. MORE is also compatible with the DALI control system, which makes lighting even more flexible.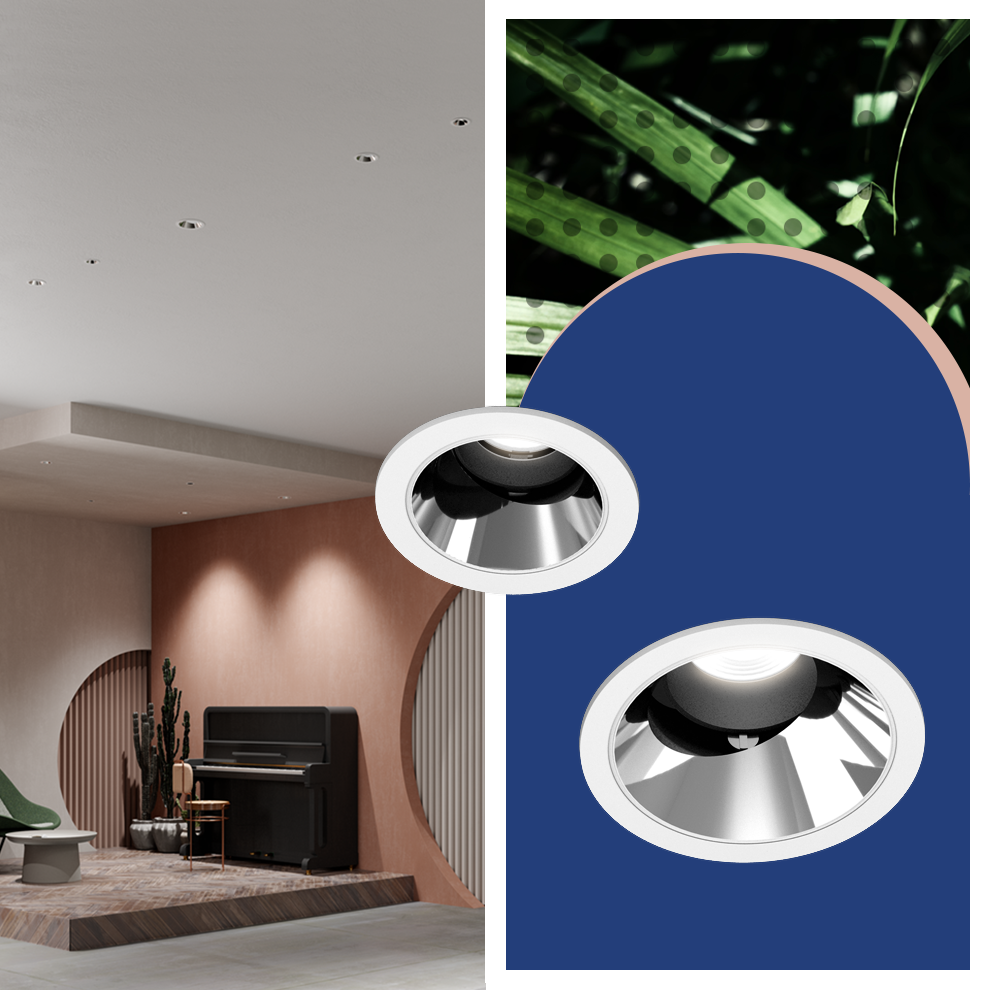 In any place where visual comfort is an important thing
Lighting each space should ensure the highest visual comfort of its users. After all, no one likes to be blinded by unpleasant glare, whether it's a home living room, an office corridor or a hotel lobby. Therefore, MORE, thanks to the ease of achieving UGR<19, is a guarantee of comfort for the eyes in its pure form. Similar to HOLLOW, even allowing you to get UGR<16!
The small HOLLOW mini and HOLLOW micro luminaires, with the deep embedment of the LED source, offer light whose source remains almost invisible to the observer. At the same time, several of these small luminaires can be connected to one power supply, which significantly speeds up installation work and allows you to reduce costs.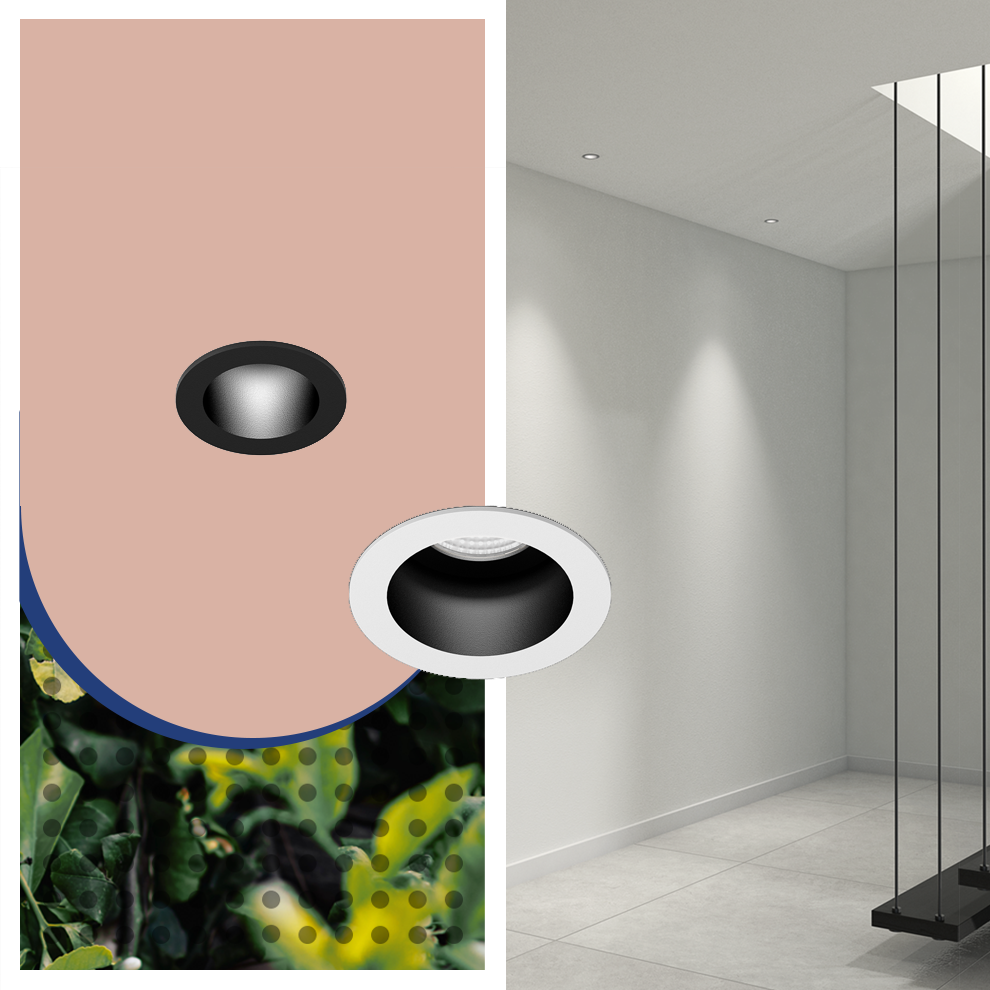 Luminaires needed "asap"? Here is the solution.
The project is already underway, deadlines are chasing, time is running out, and there is still no lighting? Rest assured! The Quick Shipment offer with delivery even within two working days will allow you to quickly solve this problem. In it, there are e.g. the most popular versions of HOLLOW, SIRCA and MORE luminaires, which not only effectively illuminate large spaces, dark corridors or spacious offices, but above all are available almost immediately.
Recessed luminaires: functionality, performance and visual comfort
Recessed luminaires: functionality, performance and visual comfort Recessed luminaires, such as HOLLOW, MORE or SIRCA, are functional and efficient solutions, and their minimalist design will not dominate the interior, but will add a modern charm. With the option of creating a system from any number of ceiling eyes, these luminaires will effectively illuminate long communication routes in offices, home corridors or hotel lobbies, while ensuring the safety of users. Check the possibilities of HOLLOW, MORE and SIRCA luminaires and see how much they have to offer!
^