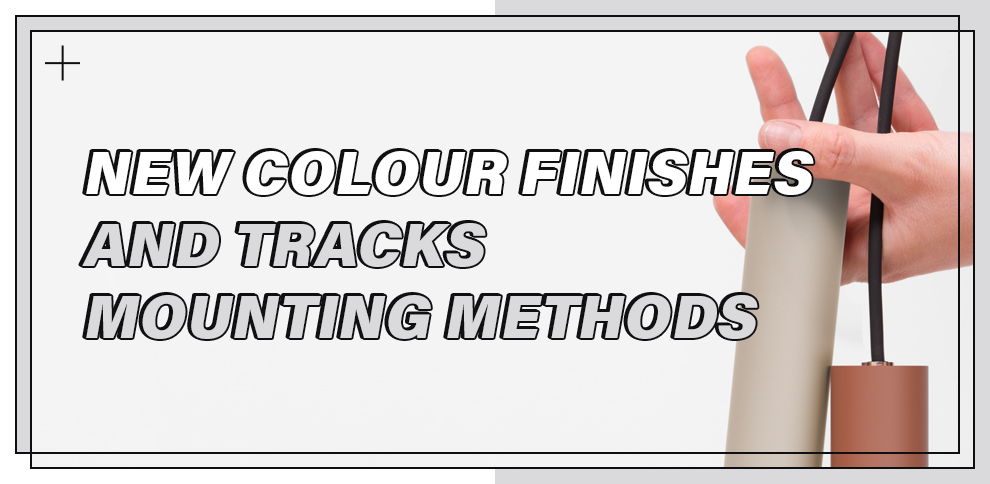 New colour finishes and mounting methods for tracks
---
The beginning of the year is a good opportunity for making changes and taking a fresh look at interior design. That is why since the 25th of January, we have been introducing new products to our offer, allowing you to create a unique space. New colour finishes in trendy, natural shades, as well as completely new mounting methods for popular tracks, are some of the proposals that are sure to add a unique character to your interiors. Take a look at what we have prepared and let yourself be surprised by our latest solutions!
Natural shades: TERRACOTTA and TAUPE
Since the 25th of January, we have been expanding our range with a new colour finish: TERRACOTTA. It means "burnt earth" in Italian. This colour brings calm and harmony to interiors while providing a visual accent. It is associated with clay pots and tiles in brick colour, reminiscent of a hot summer or a moody sunset. But there's more! We have good news for all fans of natural shades – another new colour: TAUPE, which is synonymous with warm grey, set in a soft, grey-brown tone. This intriguing shade blends perfectly well as an elegant accent, adding a classic touch to the space. Selected products are available in TERRACOTTA and TAUPE shades as standard, however, we can prepare most of our luminaires in new colours or colour mixes on request.
New mounting method: surface-mounted HIGH MULTITRACK and MICROTRACK
Tracks are flexible solutions tailored to fit modern interiors. Their functionality allows for a lot of leeway in design. Therefore since the 25th of January, our offer will include a new system – the surface-mounted HIGH MULTITRACK – which was previously available only in the recessed version and which will now allow you to almost completely hide a luminaire's mounting element. The surface-mounted variant will also be available for the MICROTRACK system, the distinct feature of which is its oval shape, small size and the use of the same system elements for ON/OFF and DALI installations. Like the MULTITRACK, the MICROTRACK uses a safe voltage of 48V and at the same time proves that far-reaching miniaturisation of components does not necessarily entail a decrease in performance.
Get the latest novelties!
Check out the offer available from the 25th of January and create a unique space. Discover the new TAUPE and TERRACOTTA colour finishes that bring cosiness and harmony to your interior while providing an opportunity for colourful expression. Discover a new way of mounting the popular HIGH multitrack tracks in the surface-mounted version, which delight with their extraordinary aesthetics. Do you prefer more rounded shapes? We have a solution: the surface-mounted version of the MICROTRACK, which intrigues with its small size. Opt for the latest lighting solutions and let our latest news take you by surprise!
^