Modern luminaires awarded with the title must have 2016: LUNAR by Aquaform
---
Plebiscite must have 2016 had awarded our lamps, called LUNAR. For the 6th time the specially appointed Board of Experts composed of representatives of media and major design centres had selected the most interesting products which fits well into the polish, newest and relevant trends. LUNAR is one of them. The unusual form and intriguing mode of light emission makes the luminaire a modern and creative solution. What characterizes the luminaires, made in collaboration with Aquaform and polish designer Joanna Piaścik?
LUNAR – ceiling lighting in a modern form
LUNAR is the lighting in a modern form.
The collection combines the classic elegance with the touch of extravagance. The columnar form of the aluminium barrel is broke through the strong and firm cut which also improves the dispersion of emitted light. LUNAR flap version has the flap on a magnetic hinge ball which allows the user to set and adjust the beam of emitted light by himself. LUNAR is available in 2 different sizes and has different colour finishes. Due to it's modern form and possibility to direct the light beam, the
surface luminaires LUNAR are well applicable as a decorative lamps or as accent lighting.

Plebiscite and exhibition must have 2016. The 5th edition
The project must have consists the plebiscite and the exhibition. Every year, the Council of Experts composed of representatives of media and major design centres choose the most interesting, valuable and best-designed polish products. Selected and awarded products are available to see at the exhibition during Łódź Design Festival. Later on the exposition is traveling through polish and foreign fairs and festivals.
For more information about this year awards please go to the main website of the event
.
This is the second must have award for Aquaform products. In 2015 the honour felt to a luminaire
equilibra BALANS
.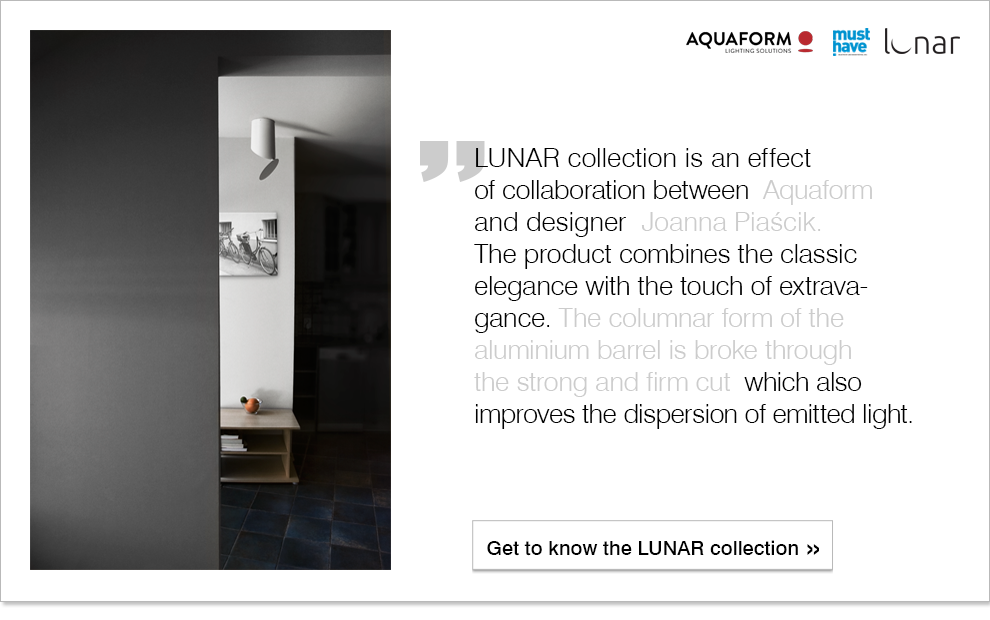 --
AQUAFORM
– Polish Company which specialises in manufacturing and designing luminaires. Aquaform offers the modern lighting solutions as LED and OLED, the architectonic, general and accent lighting. The company enthusiastically collaborates with polish designers to create unusual solutions which have already been appreciated on the international competitions such as: Red Dot Design Award, iF Design Award and Muuuz International Award( MIAW).
Joanna Piaścik
– graduate from Industrial Design department at Universität der Künste Berlin. Piaścik gain her experience by working in studio Front Design in Stockholm. After studies she found the studio design DINGFLUX in Warsaw, Poland. As a designer, she is mainly focused on a relation between a product and its potential use. Piaścik enthusiastically engage with the projects associated with design and different subjects.
^