Modern lighting from AQForm (former Aquaform) – novelties 2018
2018-05-21
Interior lighting improves our comfort both during day and night. That is why, a good lighting design uses complementing solutions which make it possible to create the desired atmosphere. Solutions both usable and aesthetically pleasing, modern lighting with a dedicated function enclosed in an elegant form. In 2018 we added multiple new designs to our portfolio. Each has its specific purpose: from ergonomic task-oriented lighting (e.g. RAFTER points), through expressive accent lighting wall luminaires (GRAPH, CAMBER, SATELLITE) and IP rated luminaires which are perfect for bathroom lighting but can also be used as external lighting (PEX, ONLY mini), to efficient general lighting (MAXI RING dot) and functional spotlights (KARI, QRLED mini, ROLL). In addition to those new products, in 2018 we also unveiled our refreshed brand – Aquaform became AQForm.
Modern wall luminaires – lighting which creates mood
Accent lighting is an ideal choice for creating the interior atmosphere, as luminaires providing indirect or reflected light perform especially well inside. In home such lighting introduces magically calm atmosphere – ideal for resting after a workday. In the office wall luminaires provide reflected light and illuminate walls, which helps reducing glare caused by the general lighting. In addition they enrich the look of the interior in many ways. Our 2018 novelties include following luminaires:
GRAPH is a luminaire with an intriguing form, even when viewed from afar. The distinct shape fits perfectly into modern, even minimalistic interiors. The expressive geometric shape adds character and helps disrupting the monotony. Meanwhile the way in which GRAPH emits light is eye-pleasing. In more traditional spaces GRAPH's modern form easily fits in with decorative elements.

CAMBER provides reflected light. Its simple form allows the luminaire to fit into almost any space. The placement of the light source guarantees that the luminaire won't blind the user, instead it lights up the wall.

SATELLITE provides an aesthetically pleasing and original way of placing multiple light points next to each other. It is an especially interesting solution for lighting in rooms with irregular shapes where it's not always possible to mount another module in a straight line. Thanks to its two mounting methods, SATELLITE allows to create interesting compositions both on walls and on the ceiling. A single luminaire can be used for either point lighting or decorative lighting.

The SATELLITE collection was created as a result of collaboration between AQForm (Aquaform Inc.) and a form designer Olimpia Ajakaiye.
LED lighting in a subtle form
There are two noteworthy LED solutions among AQForm's 2018 novelties: KARI and QRLED mini. They both offer focused light thanks to high quality lenses (QRLED mini - 34°, KARI - 15° and 36°), very good colour representation of the illuminated objects (CRI>90) and a wide range of motion.
KARI – high CRI rating and a wide range of motion guarantee user's comfort while the shape pleases the eye. This luminaire is available in two variants: suspended and spotlight. KARI offers point lighting which performs well when used to display selected parts of the interior.

QRLED mini is a new - much smaller than so far available - LED module. It is available in both SQUARES and spotlight variants. The module has a diameter of 7.5 cm but provides everything we expect from a functional lamp. Both powerand luminous flux of QRLED's light can be successfully used in most domestic use cases.
KARI and QRLED mini are also available as track mounted lighting.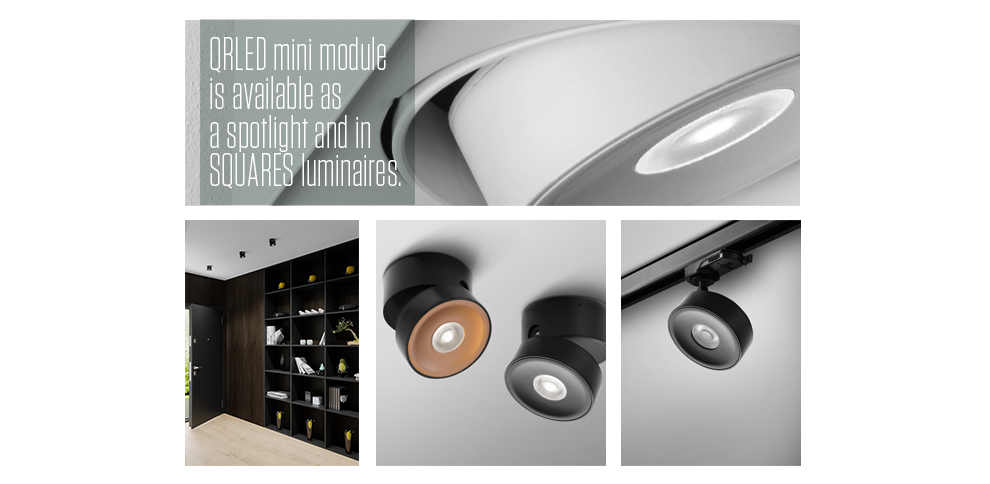 Functional task lighting: how to efficiently illuminate a desk?
The important features of functional office lighting include: high enough light intensity, uniformity, correct colour representation and a lack of glare.Luminaires with an increased protective angle such as RAFTER points or DARK POINTS are especially good at eliminating glare. A recessed light source and the use of reflective black finishes guarantee high visual comfort. Modularly arranged light sources provide precise lighting in the workspace. When using task lighting for illuminating a desk it is also recommended to take care of the general light and accent lighting, thus creating a complete scene.
RAFTER points combines modern technology with aesthetic look. Its optics – a set of recessed spotlights – allows for a very low UGR. This luminaire is available with length range from 27 cm (perfect for illuminating corridors and selected objects) up to 213 cm. The longer variants are best suited for illuminating desks, conference tables, reception desks and rest areas. RAFTER is available in suspended, surface, recessed and wall variants. Parameters of the luminaire were chosen to ensure functionality, ease of installation and optimal price to quality ratio.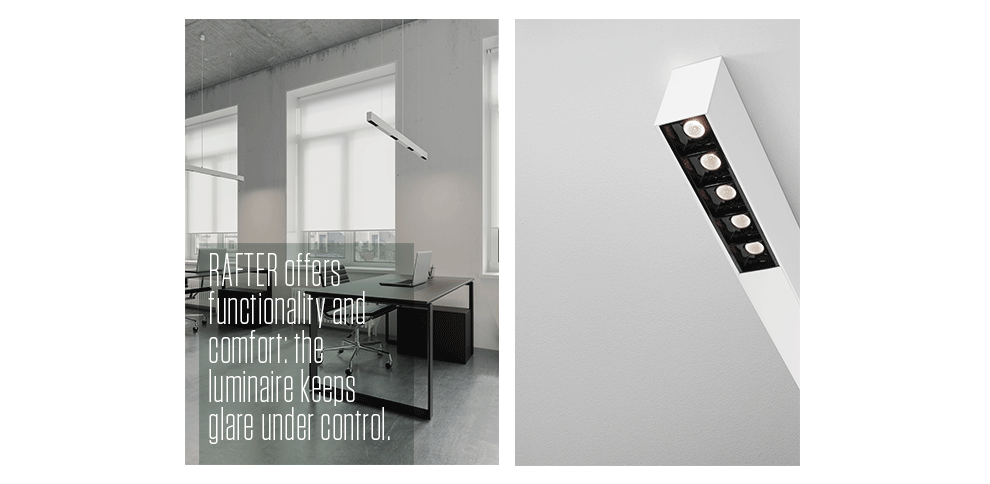 Expanded portfolio of IP rated luminaires – bathroom and exterior lighting
When designing bathroom lighting it is important to ensure that the general lighting makes it possible to easily move around whereas illuminating the area in front of the mirror. The ONLY round mini luminaire perfectly meets the first requirement. This solution is noteworthy for its high IP rating (IP>65, suitable even for exterior lighting) which corresponds with a slick form and small luminaire size. Meanwhile an even illumination of the face of the person standing in front of the mirror can be provided by THIN TUBE. wall luminaires. Among additions to our IP rated portfolio a worth-mentioning luminaires are also PEX, designed for outside use and allowing a beautiful illumination of the facades of single-family homes (release in June 2018) and PET LED 230V hermetic with a recessed lens.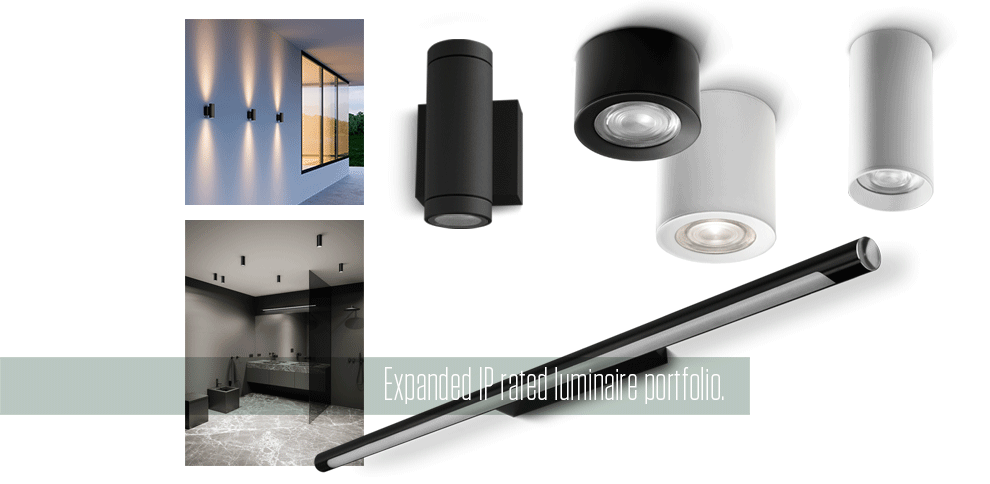 Special purpose lighting – ROLL, high power spotlight
This year we added to our spotlight portfolio ROLL – a luminaire perfect for illuminating displays, stores and exhibitions. Why? ROLL provides high power light (with a high luminous flux), good colour representation (CRI>90) and has two plains of adjustment which helps directing the light to a required direction. More importantly, ROLL is compatible with digital control systems which are very useful in changing display environments. On the top of all of these features it is also aesthetically pleasing in both the ceiling and track mounted variants.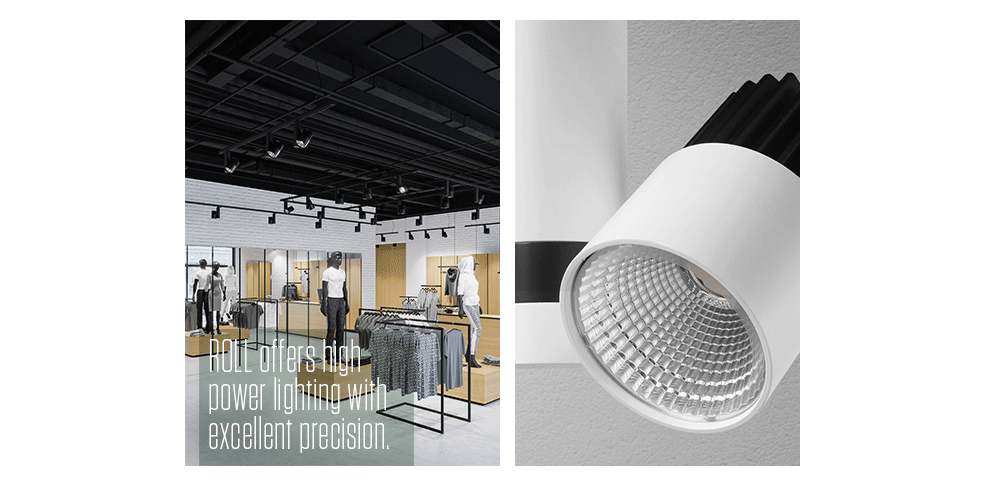 Colour play – copper and grey finishes
Alongside new products we are also introducing new finishes. The basic finish selection was expanded to include copper and grey finishes. AQForm standard luminaires are available in five basic colours (matt: alu, black, white and structure: gold, and anthracite). Many products are also available in mixed colour combinations.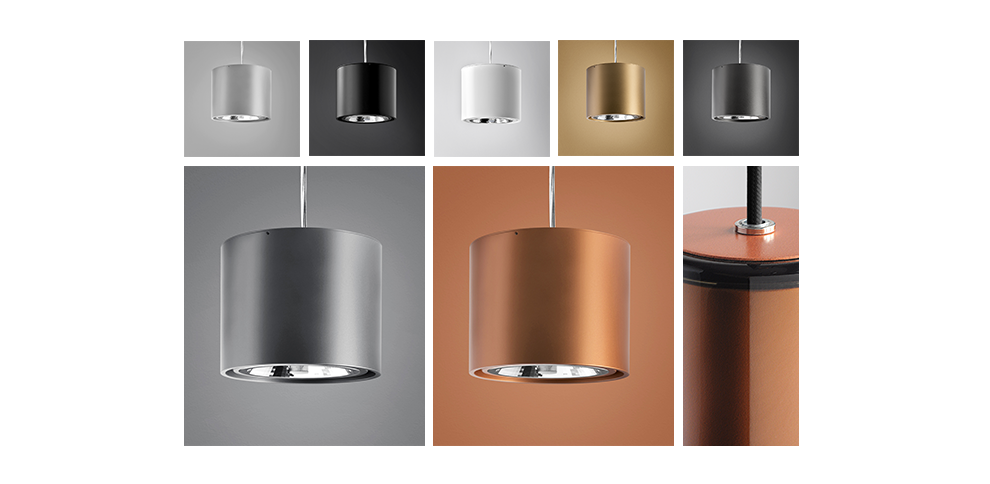 Novelties = new catalogue
All of AQForm's novelties are included in the latest catalogue. The catalogue serves not only as a way to browse current products but, thanks to photos of numerous interesting projects, it is used as a lighting solutions inspiration. This publication reflects the refreshed AQForm image and a new approach to light: Light-Forms-Life. We know, that light is necessary for us to properly function. It brings objects out from the darkness. Through painting the shadows it highlights the three dimensional nature of forms. It makes the environment shine. Light helps us to tame space.
Among AQForm's 2018 novelties you can also find: sophisticated general light solutions such as MAXI RING dot which offers soft reflected light or a slightly smaller REVEL. Many of the existing products, such as ROTTO LED 230V or SQUARES 50 230V LED, were modernized gaining both refreshed look and increased quality.
^