Meet our strong trio: SQUARES, TUBA and RING next. Now in a new, improved version!
---
September is the month of debuts. We have introduced new generations of the iconic SQUARES, TUBA and RING next luminaires to our offer. Under the balanced form and minimalist design there are also improved parameters. All thanks to modern technology, which cares for our eyesight even better, providing users with full visual comfort.
What's new in SQUARES, TUBA and RING next?
The new series of popular luminaires means, above all, improved parameters at a similar price. Their common denominator is:
high efficiency,
energy efficiency,
easy integration with intelligent control systems.
Improved optics and even greater efficiency. Check what the new SQUARES next generation can do
SQUARES next, available in two versions – recessed or surface-mounted, surprises with its possibilities. Thanks to improved optics and highest-quality diodes, this luminaire has a particularly high efficiency (~100lm/W) with a CRI> 90! Recessed light source protects eyes from unpleasant glare, fully ensuring visual comfort.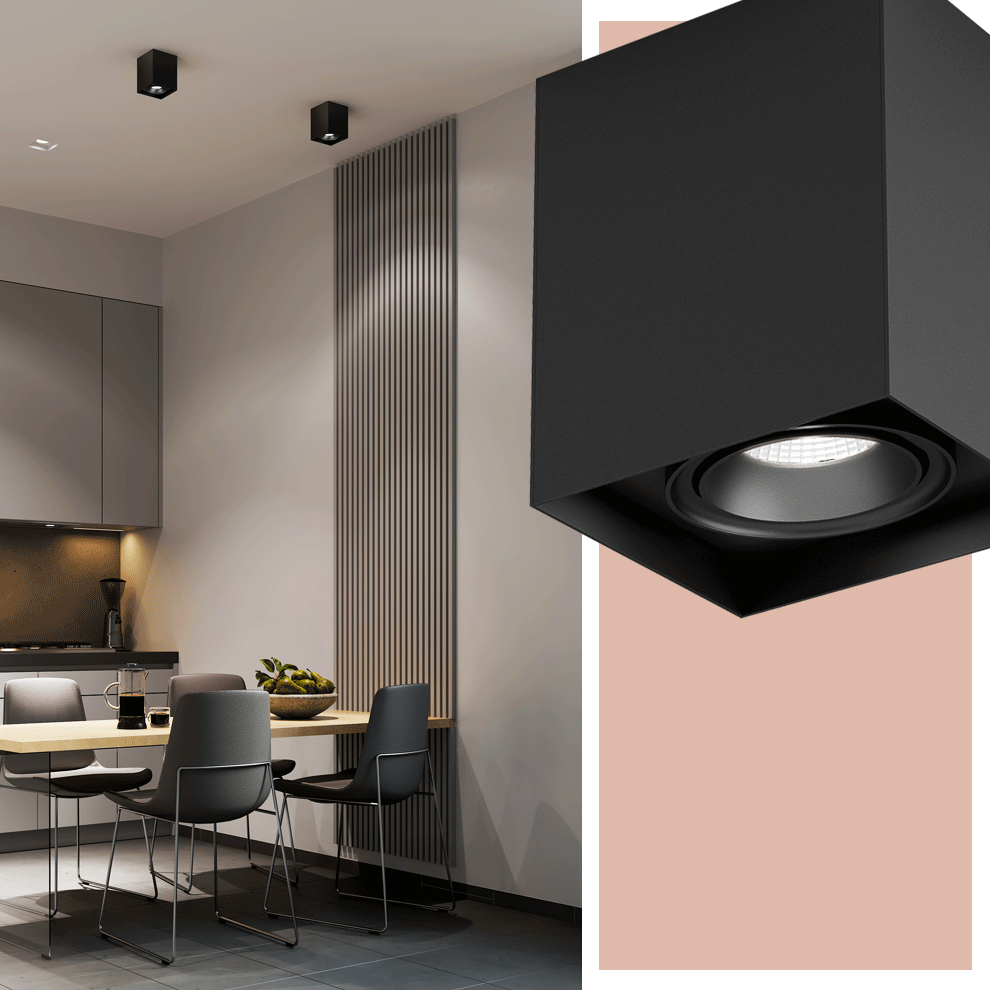 The use of a constant current power supply has a positive impact on our comfort, because it ensures less ripple. Why is it so important? Long exposure to high ripple, that is not visible to the naked eye, can cause headache or irritation. That's why it is so important to reduce ripple, especially in luminaires that provide light in rooms, where we spend a long time.
SQUARES next can be easily integrated with control systems that allow you to create a complex light scenes. The minimalist design of the luminaire perfectly fits to modern interiors, emphasizing their contemporary character. Thanks to the reduced ripple, high efficiency, increased shielding angle and available control systems, SQUARES next is a great choice for home and communication spaces in the office or hotel. To sum up, SQUARES next is a subtle luminaire with a high power, while maintaining full visual comfort.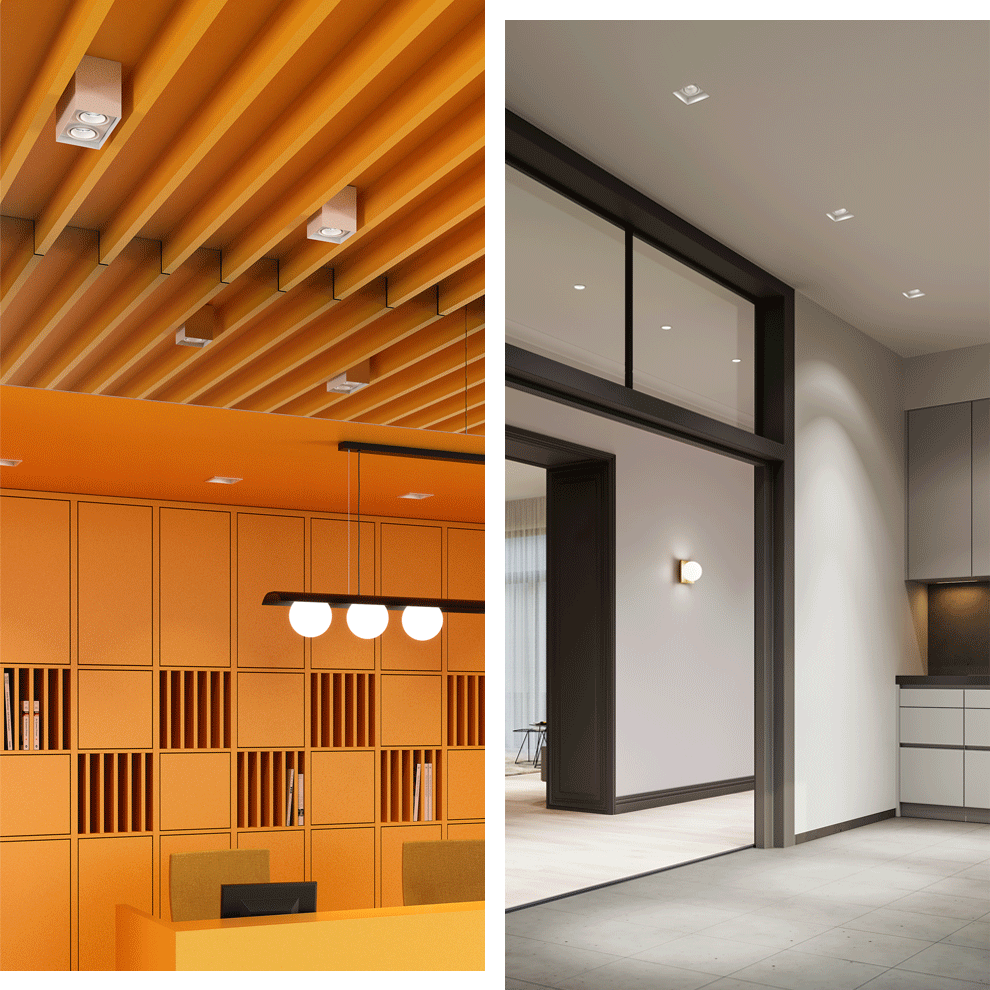 We present TUBA next - a subtle luminaire with an exceptionally large shielding angle
TUBA next is our new product with improved technical parameters. Its distinctive feature is a deeply recessed, integrated LED light source. The recessed light source provides a large shielding angle, which ensures high illuminance with extremely low glare. Such a light allows you to create comfortable conditions both for rest and work.
High color rendering (CRI> 90) and no ripple guarantee visual comfort and care for the eyesight. Therefore TUBA next is a great solution, for example, for a living room. Thanks to balanced design, when it's properly displayed or combined in a group of several luminaires, it can be a hallmark of a modern interior. TUBA next is a tilting luminaire, that's why we can direct the light exactly where it's needed.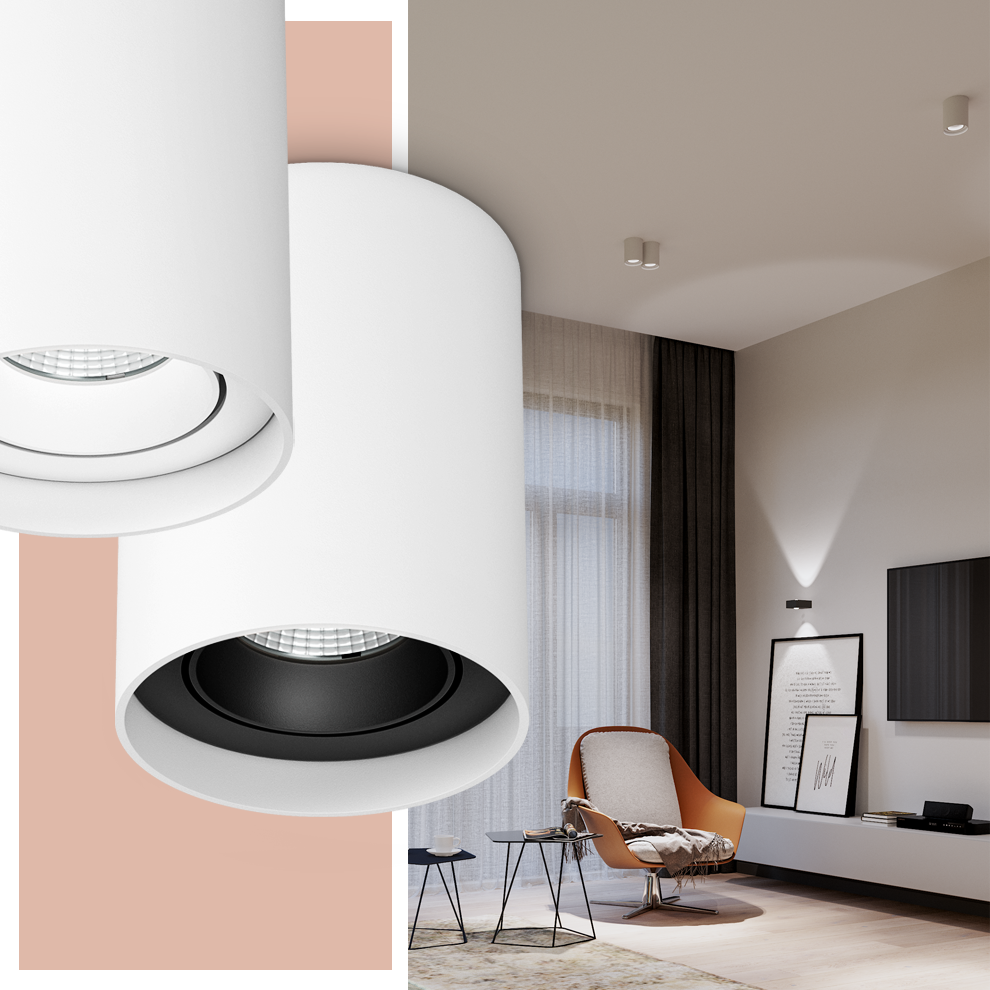 Meet RING next - a lighting specialist with extremely small dimensions
Due to the small size of RING next, this luminaire may be used in domestic spaces and also will perfectly fit to small suspended ceilings. High color rendering (CRI> 90) and a recessed light source, similar as our other new products, guarantee visual comfort, while protecting our eyesight from unpleasant glare. The use of a subtle frame around the luminaire makes assembly faster and easier, because it doesn't require precise plastering treatments.
The small size of the RING next and its easy assembly give full freedom in arranging sophisticated compositions consisting of several or even a dozen luminaires at the same time. The DALI option, available on request, allows you to control the light according to your needs and mood. RING next is also a tilting luminaire, thanks to which we can direct the light where it's needed. The minimalist design makes the RING next harmonize perfectly with modern interiors, especially in home spaces.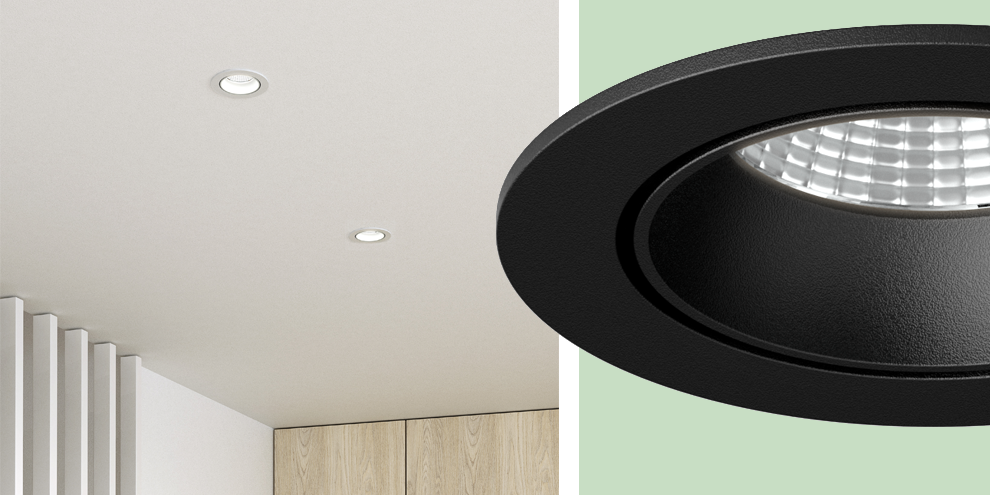 Let yourself be surprised by the new generations of popular AQForm luminaires and discover their possibilities!
SQUARES, TUBA and RING next mean, above all, better parameters at a similar price. The common feature of these luminaires is high efficiency, energy efficiency and easy integration with intelligent control systems. AQForm engineers put special emphasis on the fact that the new generation of popular luminaires could boast even greater visual comfort, definitely less ripple and the deeply embedded light source protected our eyesight from unpleasant glare. The subtle design makes each of the presented novelties a delicate, fashionable accent in contemporary interiors. Thanks to the improved parameters, these luminaires will be perfect for rooms where light is needed for continuous use.
^