Meet GOLO - eye catching wall lighting
---
Wall lighting places a big role in interior architecture. It underlines shapes, extracts material textures, creates an atmosphere. GOLO - a new AQForm wall luminaire - is specialized for this use case. Thanks to its construction combined with an aesthetic glass lens it "paints" eye catching light patterns on walls. Compact size means that it will fit in many arrangements while the increased IP rating allows it to be used in bathrooms.
Novelty: GOLO wall luminaires underlining walls with expressive light
GOLO's neat shape means that this luminaire can easily fit in many arrangements. It's expressive light shaft can underline not only the wall but also - depending on the height of the interior and mounting point - part of the ceiling. GOLO's aesthetic vertical light can successfully complement climatic arrangements of private interiors. It can also fit well in commercial spaces when it is used as an accent or when multiple GOLO luminaires are used. The IP44 rating means that GOLO luminaires can be used as wall luminaires in bathrooms.
Aesthetic wall lighting
The combination of a metal body with a glass lens creates an especially elegant duo. Thanks to this the GOLO wall lighting fits in many types of interiors. By manipulating the lighting parameters and the location it can be adjusted for the needed function. Inside the home a wall illuminated by warm lighting will create a relaxing atmosphere. The light flowing over a wall with switched off or dimmed general lighting doesn't distract and allows the eyes to rest. In offices the side lighting can lower the glare created by strong ceiling mounted luminaires. Additionally wall lighting in offices warms the interior atmosphere similarly to how it does it in the home, the difference is that in workspaces it's worthwhile to use a colder colour temperature (4000K). Such lighting stimulates the body and thus it does not the decrease the work efficiency. In restaurants and hotels GOLO wall luminaires make it possible to accent parts of the arrangement and to focus the attention of the guests on chosen elements.
Shapely wall lighting that can be used in bathrooms
GOLO is a new wall luminaire in AQForm's offer. The compact shape, modern body and expressive vertical lighting mean that it will fit in both residential interiors as well as commercial ones. Thanks to the IP44 rating the GOLO wall luminaire can also be used bathroom lighiting.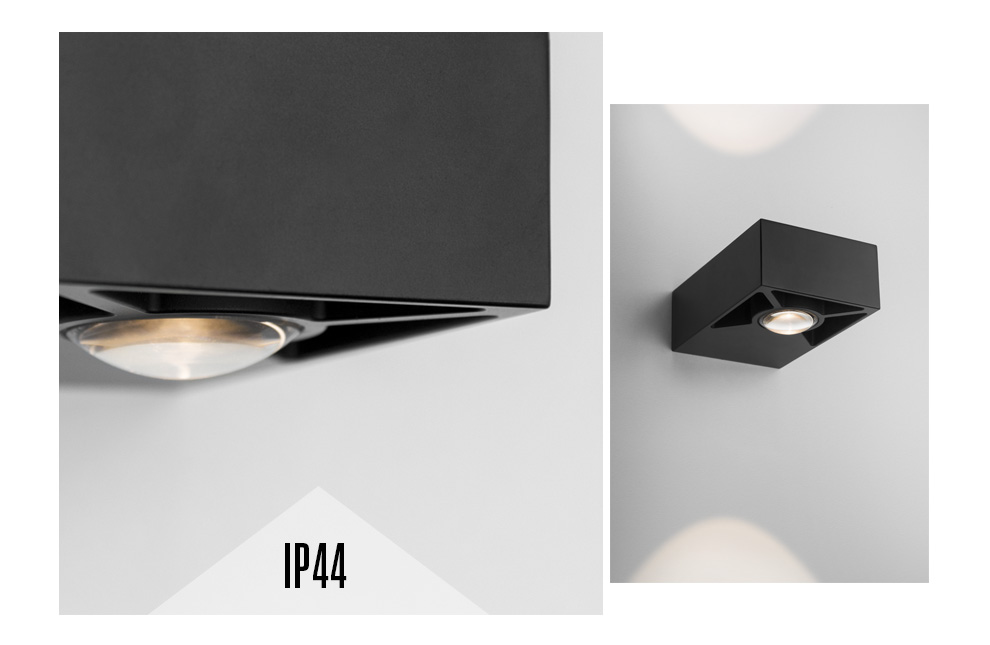 ^