Fast delivery time: popular lamps even in 48 hours. QS AQForm offer.
---
Interior renovation in progress, electricians scheduled, but lamps are missing? We know that when it comes to interior finishing, the order delivery time is of great importance. Therefore, we are expanding the offer of quickly available luminaires with new LED products and products with extremely fast assembly! Check what's new in the QS (Quick Shipment) offer.
QS offer: popular lamps with short delivery time
Thanks to an in-depth product analysis, our most popular lamps are ready to be shipped from the warehouse within 2 business days. If a product from QS is not in the warehouse, it will be produced within 5 business days. We always confirm the realization time.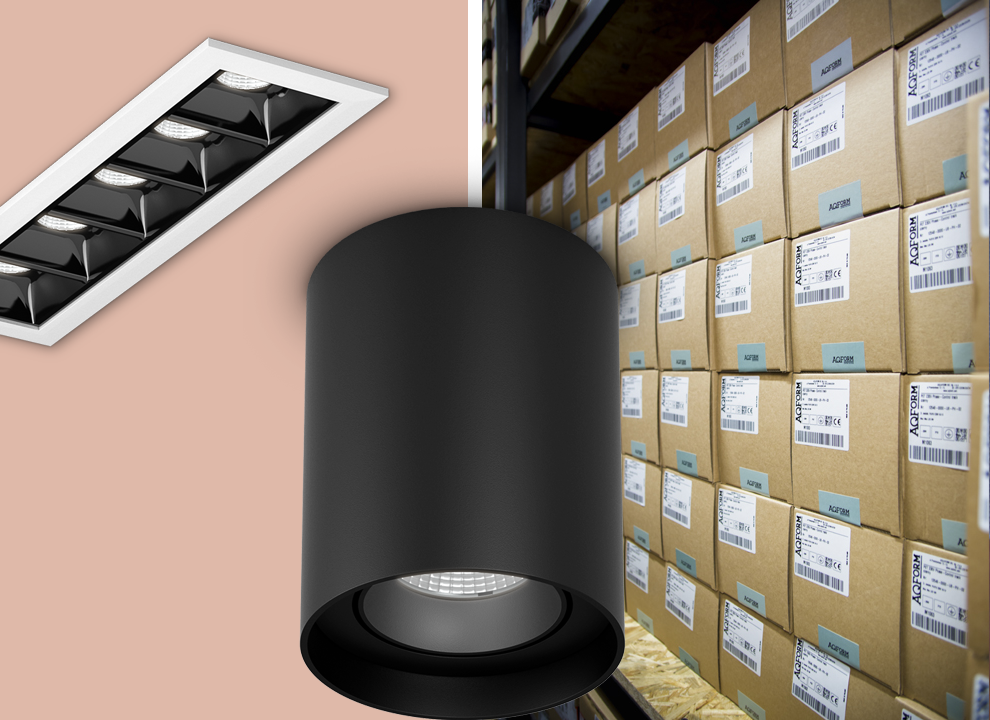 Selected new luminaires have joined the group of products with the shortest lead time! The QS offer will include selected representatives of these families:
RAFTER points trim – compact shape, precise light, high visual comfort and convenient assembly – these are the four characteristic features of this collection. One RAFTER points trim luminaire with dimensions of 15x5cm can light up such a surface as a traditional AR111 luminaire with dimensions of 20x20cm. Moreover, the combination of the three smallest RAFTER points trim luminaires only 5x5cm is enough for functional lighting of 1m² of the floor. Thanks to a small frame around the luminaire, assembly is much easier – a few millimetres edge is enough to cover the junction of the luminaire and the ceiling. This speeds up the work, as there is no need to perform precise plastering and finishing operations after mounting the luminaire. It is worth checking what this compact lamp can do.

PET next – available in three sizes and several options of power and luminous flux: from 400 to 2000 lumens. Such diversity significantly increases the range of possible applications of this family. The QS offer also includes a mini variant – suitable for domestic needs – and a maxi variant, which can handle even exhibition spaces or very high public spaces (even 8m high corridors will be covered!).

MORE – this trio was created to emphasize and illuminate spaces with very high requirements in the field of the protection against glare. MORE luminaire can be tilted, it has an increased eye-shielding angle and a stylish chrome reflector.

SIRCA – high luminous flux and wide beam angle make SIRCA perfect as general lighting also in large spaces, such as offices or hotels. An important advantage of this luminaire is its energy efficiency, thanks to which SIRCA is a luminaire with low operating costs (in the version with a 14cm diameter from a 12W source we get a flux of over 1500lm!).

TUBA next, RING next, SQUARES next – this is a strong trio that probably does not need to be introduced to anyone who knows our lighting solutions. The next version debuted in September 2020 and is already enjoying great popularity. What do these three fittings have in common? Coherent, minimalistic design and energy efficiency, which is followed by lower electricity bills, for starters. In addition, a refined optics that increases the angle of the observer's eye protection, guaranteeing high comfort for interior users. Moreover, easy installation which significantly speeds up the interior finish (it is worth knowing that RING next only needs 65mm in a suspended ceiling). And finally: the possibility of integrating these luminaires with intelligent control systems.

HOLLOW mini and HOLLOW micro – these are the smallest of our round recessed luminaires. The recessed light source guarantees comfort for the eyes by eliminating the unpleasant feeling that occurs when looking at the visible light source. Two sizes allow you to create various compositions with the use of HOLLOW luminaires, and the small dimensions guarantee that the light will subtly complement the interior.

PET micro – a perfect solution for people who like afternoon or evening reading. Whether in the comfort of a home bedroom or a hotel room, pleasant side lighting by the bed or sofa is of great importance. Refined optics and the ability to direct the light source in the desired direction focuses attention on the pages of the book, without overly illuminating the space around it. Thanks to its small size, this independent directional lighting solution saves space and will fit even into even small interiors.
Lighting available ASAP
The interior is in progress, the lamp assembly date has been arranged and the lighting has not been selected yet? Is the end of the project approaching and deadlines are running out? There is a free weekend and you have an idea for a spontaneous renovation? The solution is the QS (Quick Shipment) offer – the most popular AQForm lighting products, which we ship ready from the warehouse within 48 hours from the confirmed order or we produce them up to 5 working days.








































































































^