Do you know what a luminaire IP is?
---
IP, or International Protection Rating, is a two-digit symbol where the first value indicates a degree of protection of the luminaires against dust, and the second indicates the resistance to water. The standard IP value for luminaires intended for bedrooms or living rooms is IP20, because in these places there is no risk of exposure of the luminaire to adverse factors. It is completely different in the case of luminaires installed in the bathroom, especially near wet zones. In such rooms, the IP rating must be much higher to ensure safety against the negative effects of water and moisture. With modern bathrooms in mind, we are expanding the range of fittings with increased tightness! Discover new possibilities.
Novelties tailored to the needs of modern bathrooms
Among the AQForm novelties, you can find luminaires with increased IP, which are perfect as bathroom lighting. Thanks to their excellent technical parameters, these products will not only provide proper lighting during a relaxing bath, but also facilitate everyday cosmetic activities, such as applying makeup or shaving.
Discover the new features of the iconic MODERN BALL luminaire
Resistant even to rain, MODERN BALL simple midi WP LED hermetic surface with IP54 class, just like MODERN BALL simple midi WP LED hermetic surface G/K with IP44/20 class, are perfect for bathtubs or open showers. It is an excellent proposition for modern bathroom luminaires. These products, thanks to the timeless, minimalist design, will not only add charm to the interior, but also work perfectly as wall lamps by the mirror, facilitating everyday care treatments. The perfect illumination of the lighting surface, the stability of the light colour, and the protection of eyesight against glare thanks to the matte glass cover makes MODERN BALL simple next to the mirror fit like a glove!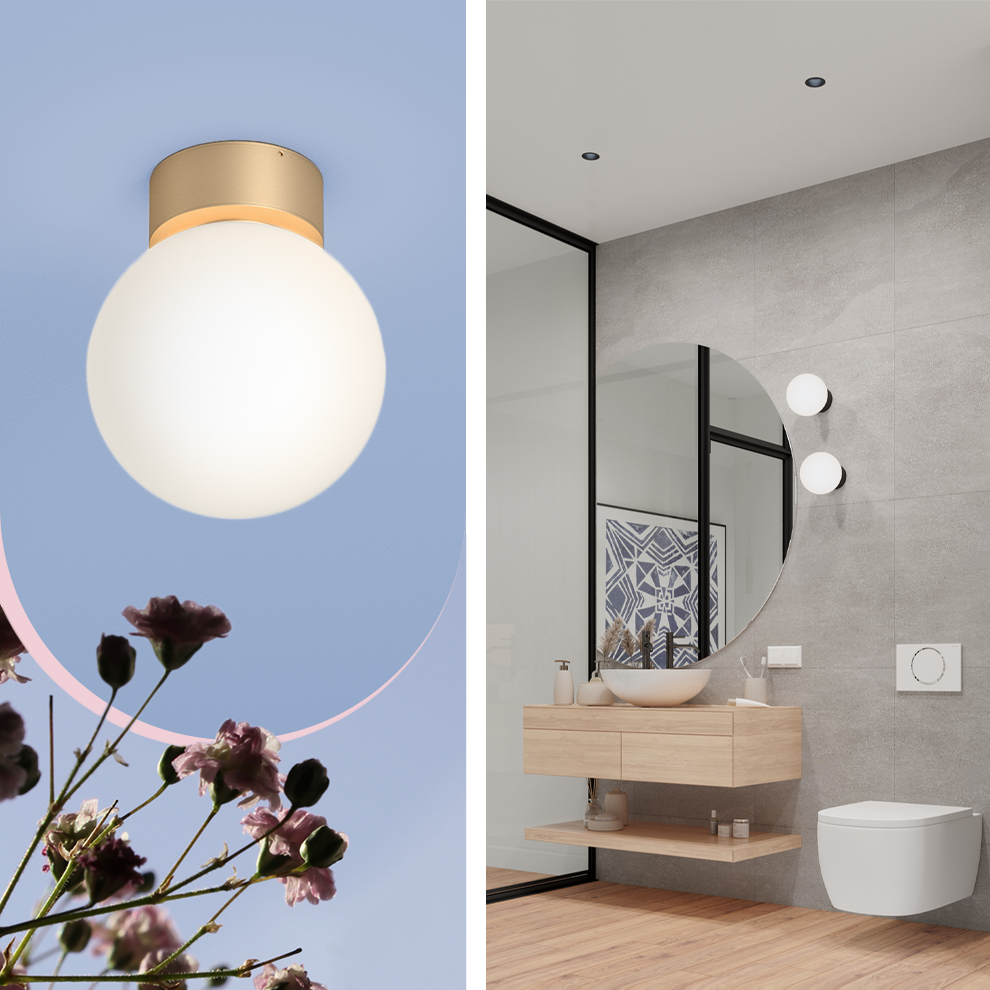 Shaving or putting on makeup in such a light is pure pleasure, and above all, a guarantee of good appearance while maintaining the highest safety. MODERN BALL simple midi WP LED hermetic surface is a combination of a classic shape with modern LED technology, thanks to which these luminaires emit soft, gently-diffused light that is pleasant to the eyes.
Another novelty, the G/K version with IP44/20 class, in turn, is adapted for installation in a plasterboard structure, thanks to which we obtain an interesting effect of a glowing glass ball "glued" to the wall or ceiling, which will be successfully used as general or work lighting.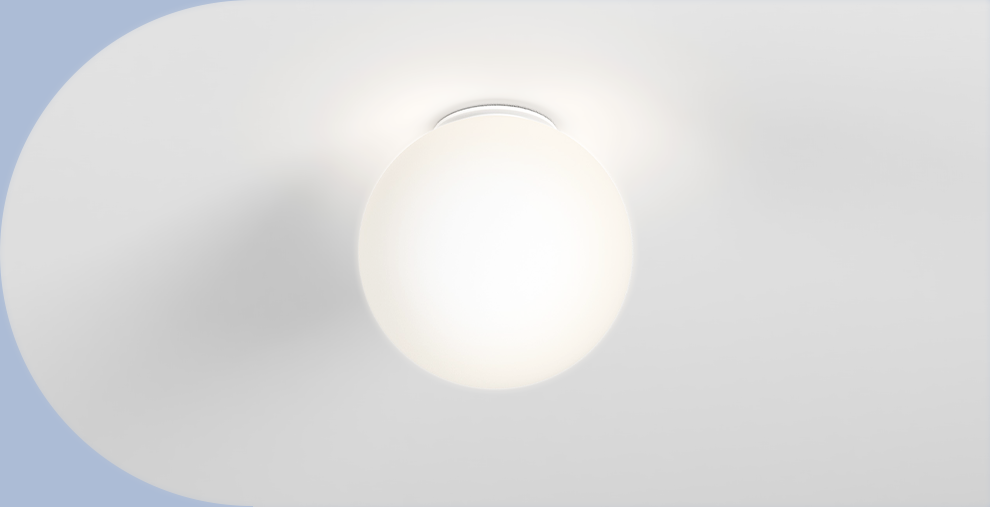 Both MODERN BALL versions have a guarantee of safety and protection against the negative effects of moisture, while maintaining the highest visual comfort for the user's eyesight.
When choosing lighting for the bathroom, it is worth remembering that light sources located on both sides of the mirror will provide perfect illumination of the face without the "panda effect" in the form of unfavorable shadows under the eyes. The lighting of mirrors in the wardrobes of the biggest stars is designed in the same way. In such a light, the face looks better, which has a positive effect on our well-being.
Discover the great power of new, hermetic HOLLOW luminaires
Another novelty with a higher degree of tightness that will protect us against the undesirable effects of moisture and water are HOLLOW round micro LED hermetic and HOLLOW round mini LED hermetic in a recessed version with IP54/20 class, classifying both products as safe bathroom luminaires.
Despite their small dimensions, they have an efficient light source and optics that protect against glare. The deeply embedded LED source guarantees visual comfort for the user's eyesight, while allowing for UGR<16. HOLLOW round micro or mini LED hermetic in a recessed version is a functional and efficient solution, and above all, a guarantee of safety and water resistance, which is extremely important, especially in the bathroom.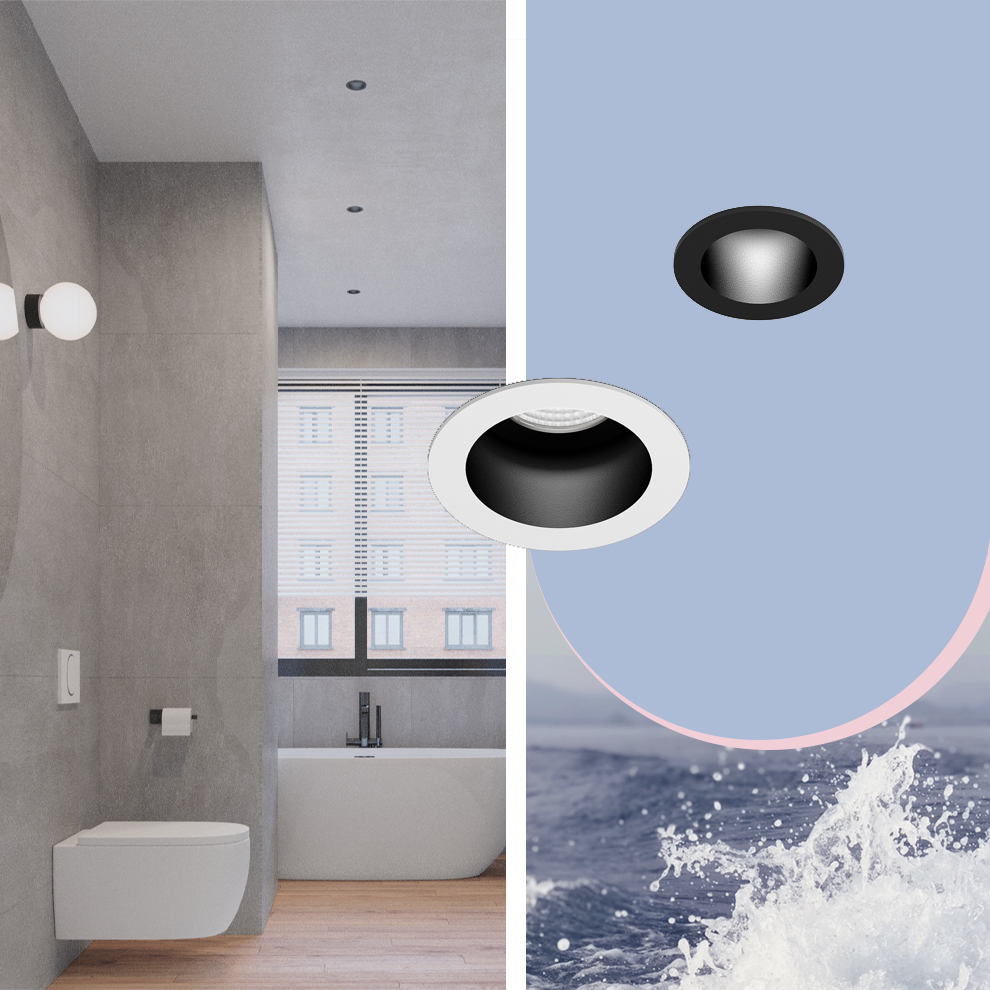 Take care of your safety with novelties from AQForm
When looking for lighting fixtures suitable for the bathroom, it is worth paying attention to their tightness class, expressed by the IP value. This is very important, especially in rooms exposed to moisture, which may lead to failure of the luminaire. In such interiors, the new, hermetic versions of the iconic MODERN BALL and HOLLOW luminaires will do well, which will not only effectively illuminate the room, but above all will ensure our safety during morning care or long, relaxing evening baths.
^