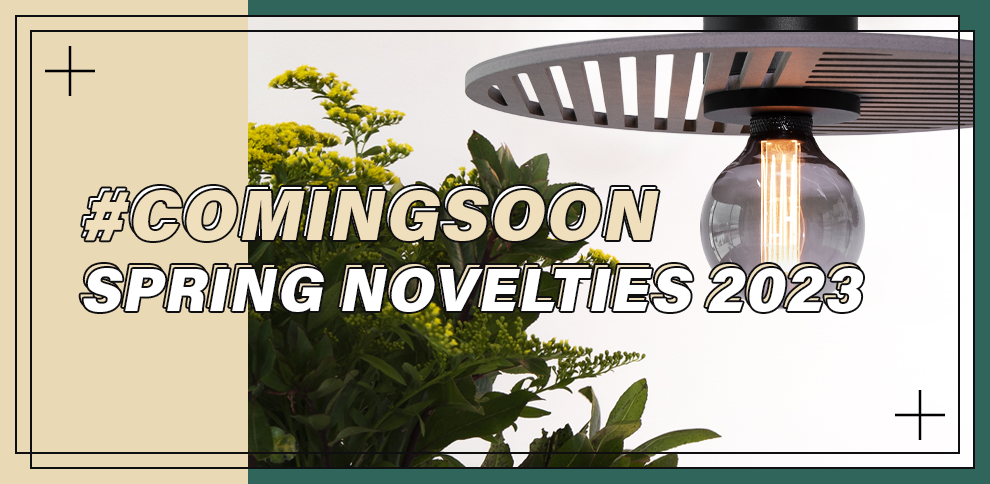 Discover spring novelties! #comingsoon
---
Our offer is changing this spring! New products will soon be available, perfectly catering to the needs of both private and public interiors. Among them, you will find proposals with even better technical performance, new versions of decorative luminaires, as well as upgraded variants of popular collections. Check out what we have prepared and let yourself be surprised by the exceptional functionality of our light fittings!
Check out the new variants of our popular collections
The PET family will soon be joined by PET next mini rift, which is an elegant, filigree luminaire that is perfect for efficient task or accent lighting. With different lengths to choose from, it is ideal for creating striking constellations. What's more, the possibility of combining diverse finishes is an invitation to play with colour. Our spring offer will also feature brand new variants of the well-known RAFTER collection, extended by more mounting versions. Thanks to their low power and size, these products are successful in both professional and private applications. The new luminaires from the RAFTER family – depending on the version chosen – are a proven solution for illuminating traffic zones or effective task lighting. Things are going to be interesting, won't they?
Meet luminaires for special tasks!
We know how important flexibility is when it comes to lighting. From now on, rearranging your living room will not be an issue at all! PUTT move is perfect for the job. This mobile luminaire boasts several lighting angles to choose from. With its modern design, excellent performance and effective glare protection, PUTT move blurs the boundaries between decorative and architectural lighting. Meanwhile, enthusiasts of effective bathroom lighting are in for a different novelty we have to offer: THIN TUBE twist, a specialist in effective illumination of the face of a person standing in front of a mirror. With this product, putting on makeup or shaving will now not only be fun, but above all precise!
New decorative and outdoor luminaires
The IKI collection will be expanded with new variants in decorative wall lamp and pendant versions. These luminaires are perfect as an elegant accent or for atmospheric table lighting. Their ornate character will add a unique style to your interior, while providing an original decoration. Among the novelties, you will also find the ONLY round mini exterior, a luminaire designed for outdoor use that boasts a high watertightness class and a refreshed design. This will ensure that your evening drive home or back to the hotel is not only pleasant, but above all safe.
Opt for top-quality lighting
Spring novelties surprise with their functionality! Among them, you will find new offerings from the PET family, which work great as efficient task or accent lighting. We will also expand our popular RAFTER collection with luminaires ideal for illuminating communication zones. There will be no shortage of recessed solutions either – the mobile version of PUTT move will allow you to direct light in any direction, whereas new THIN TUBE twist will ensure that the mirrors at your home, hotels and restaurants are well lit. But there's more! In our spring offer you will also find proposals for outdoor luminaires – ONLY round mini exterior, as well as new versions of the IKI luminaire, which will add a unique touch to your interior. More details coming soon!
^