Check out modern wall luminaires - stylish wall lighting
---
Lighting is not only a matter of aesthetics, but also of the safety and comfort in using a given space. The perfect complement to the general lighting are small-size wall lamps. These supporting characters are an interesting decorative element, while their well-thought-out selection results in an original visual effect. Check what possibilities wall lighting offers.
Wall lamps – lighting that allows you to create a nice atmosphere
After a hard day, it is worth rewarding yourself with a moment of relaxation. In such moments, one should remember about properly selected lighting, which will not distract us or tire our eyes. Wall lamps work great in this type of task. They allow you to obtain the effect of soft light, perfect for enjoying your favorite book or long evening conversations. Wall lighting does not break the rhythm of the night. It provides a subtle background, allowing you to adjust the intensity to your individual needs. When lighting the wall, these lamps add warmth to the interior, at the same time being its practical element. Used individually, they emphasize a favorite detail, in pairs they create an interesting symmetry, in groups they create a nice atmosphere.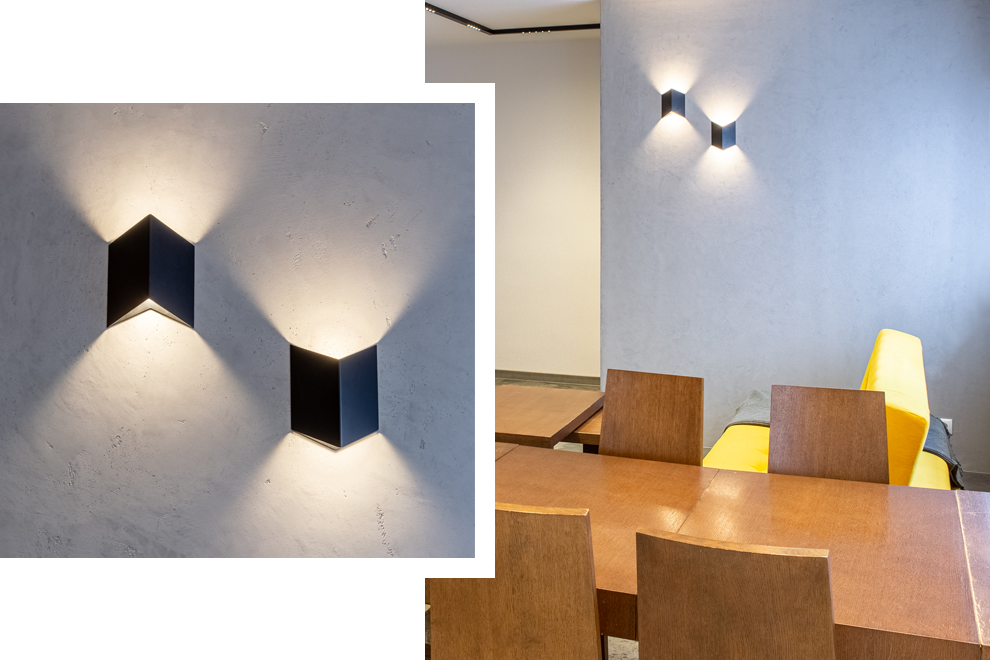 Small wall lamps: a great choice not only for bedrooms
The versatility of the wall lamps allows for their extremely wide use. It is a perfect complement to general lighting. They create sophisticated patterns on smooth walls, neatly emphasizing the charm of the interior, while on surfaces covered with a structure – they highlight its three-dimensional character. Wall lamps allow you to tame a space, while building its identity. Small wall lamps are a simple recipe for an moody scene. An example is the new CAMBER mini luminaire, the universal shape which corresponds both with private and commercial interiors. Thanks to a cleverly placed light source, the flux finely flows around the wall, painting a decorative pattern on it. This subtle accent will rest our eyes and ensure a pleasant atmosphere.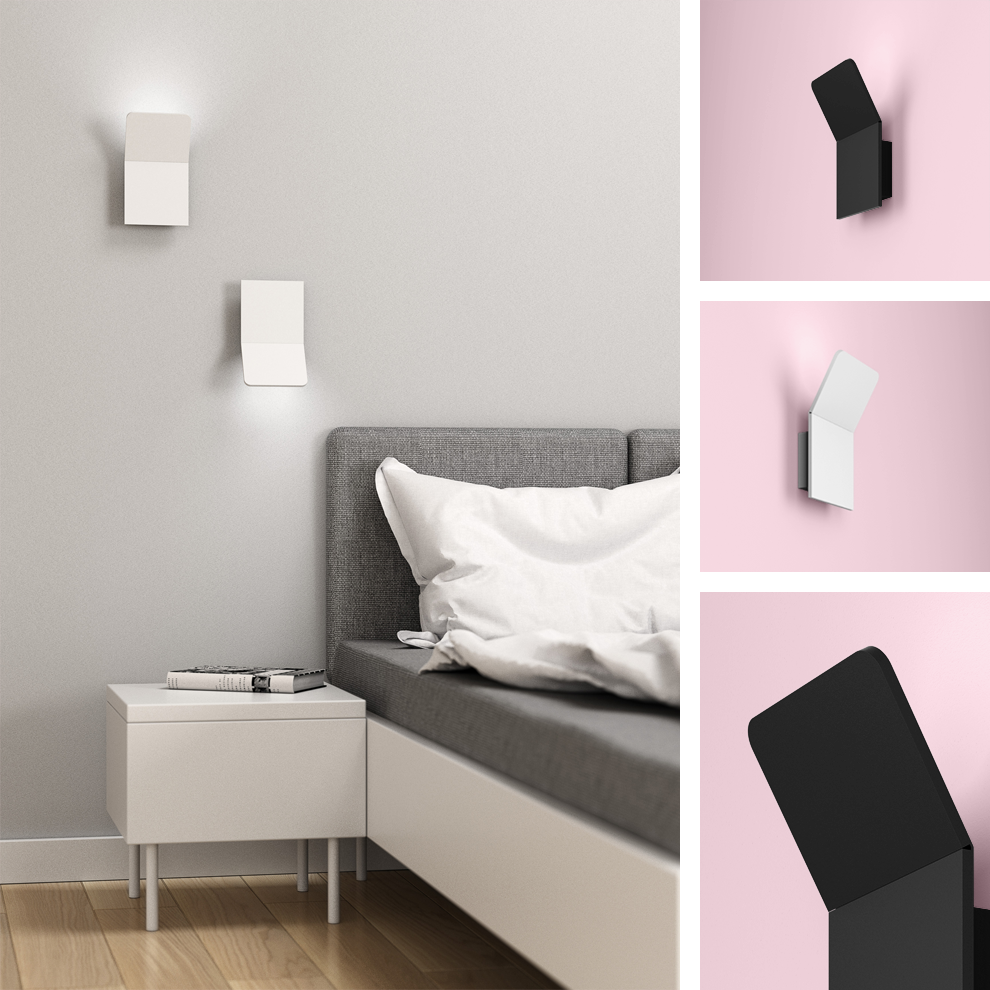 Wall lighting in commercial spaces
Wall lamps skillfully fitted into the space are widely used not only in private homes, but also in service and public facilities. In offices and conference rooms, they warm up the atmosphere, while helping to reduce unpleasant glare. Wall lamps are also a good complement to the interiors of restaurants and hotels. When light is directed down they perofm as effective task lighting, upwards - they emphasize ornaments on the ceiling, up&down light allows you to revive even an empty wall. Moreover, as an independent directional lighting, wall lamps can successfully emphasize the charm of a painting in an art gallery or a museum exhibit. A good example of a movable wall lamp is SET RAW mini move, which allows to flexibly direct the light in any direction. Thanks to its excellent parameters, this luminaire is able to light even a large space, while its minimalistic design goes well with any arrangement style. SET RAW mini move will easily emphasize entrance, communication and relaxation zones, as well as ensure the visual comfort of the user.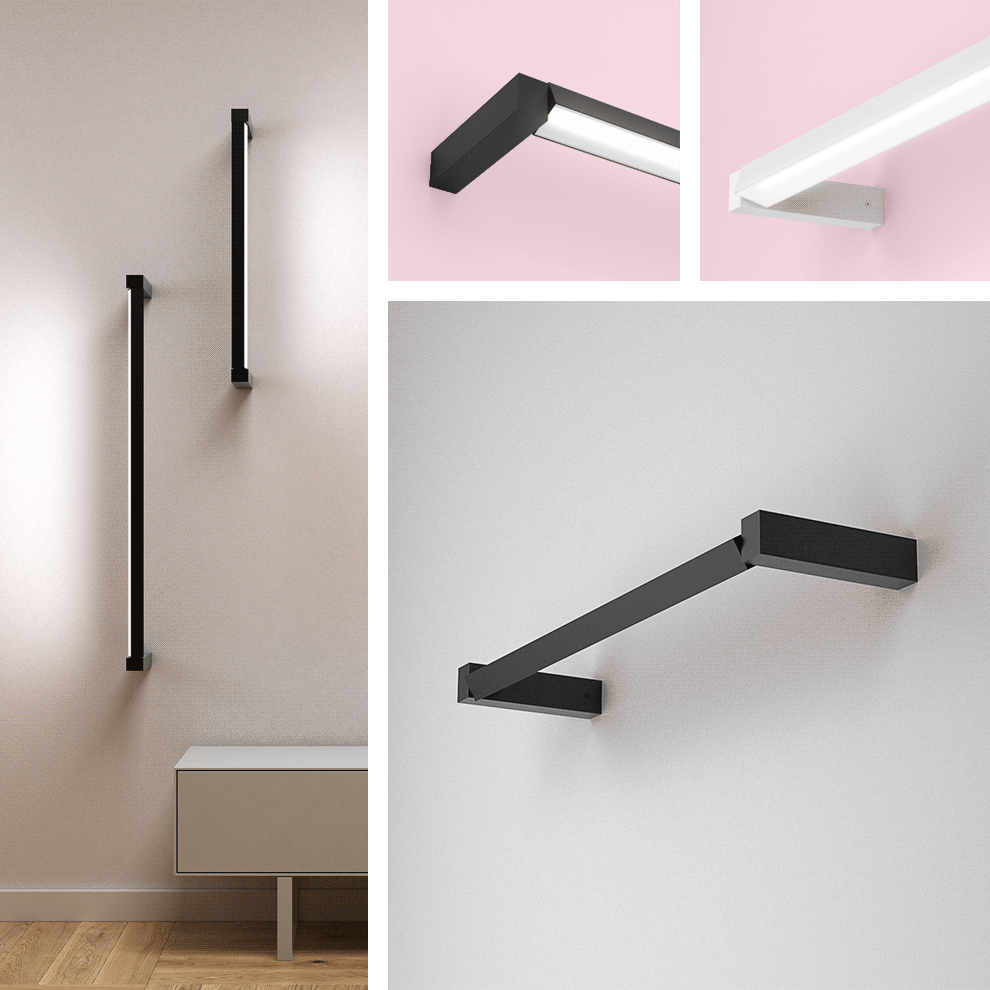 Wall lamps for the hall and corridor
Wall luminaires can also perform as signposts in communication zones. MAXI POINT, emitting subtle soft light, will be perfect for this role. Thanks to its small dimensions and geometric form, this wall lamp will in an unobtrusive but effective way, marks the way in a dark corridor, while being an accurate complement to the general lighting. On the other hand, fixtures such as POCKET with light directed towards the interior, allow you to mark the edges of the steps – a solution that cares about our comfort and safety simultaneously.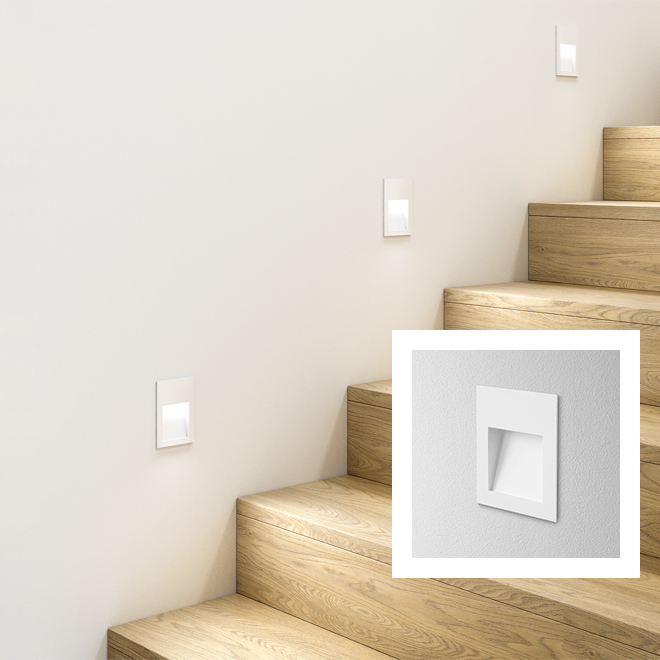 Aesthetic accessory: modern design is mostly about simple forms
Modern wall lamps look extremely subtle and tasteful, thanks to which they fit into almost any arrangement. Luminaires that emit diffused strong light are ideal both as functional face lighting by the mirror, and as an aesthetic accessory to commercial interiors. An example is MODERN BALL, mesmerizing with its geometric perfection. Softly illuminated, perfect in its curves, it combines decorative style with functionality. MODERN BALL effectively protects the observer's eyes against unpleasant glare, thus ensuring high visual comfort. Thanks to this, this wall lamp will easily complement the general lighting near the dressing table mirror. Such light, reducing shadows and illuminating the entire face, makes it easier to perform everyday makeup or beauty treatments. The modern design of MODERN BALL makes this luminaire a fashionable addition to any interior – from private homes to hotel lobbies.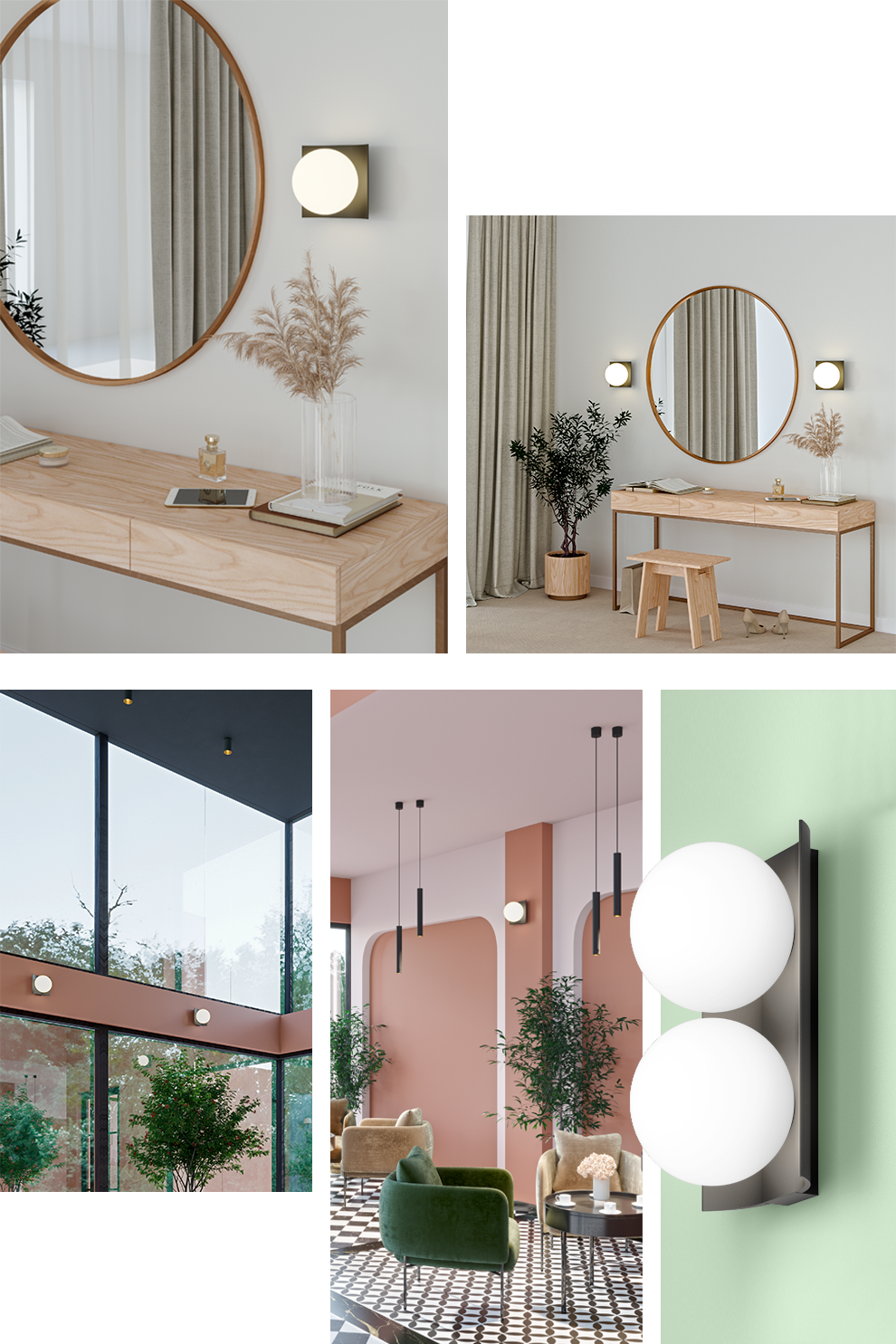 Wall light in the bedroom: wall lamps for reading
The bedroom is a particularly important space both in homes and hotels. This is where we can rest after a hard day or dive into the world of our favorite read. Therefore, complementary lighting has special value here. In addition to building the right atmosphere, we should have easy access to it at our hand's reach and be able to conveniently direct the light to the desired area. It is also worth remembering that the frame should not get hot at any time! The PET micro move wall lamp – an ally for evening reading enthusiasts – will ensure the comfort of our rest. Thanks to the refined optics and the ability to direct the light into almost any direction, it focuses its attention on the pages of the book, without overly illuminating the space around it. PET micro move is a standalone directional lighting that will be perfect for a bedsite, and thanks to the adjustable arm and small size, it will save space.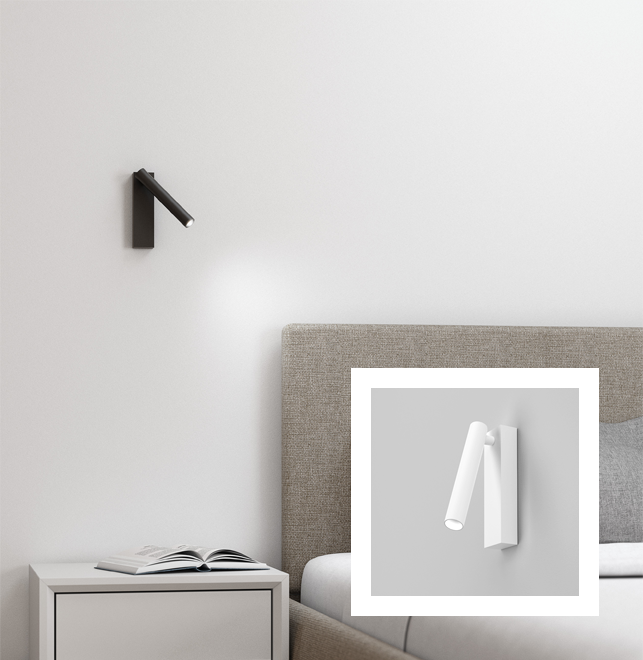 Bathroom wall lamps – aesthetics and functionality
Wall lamps play a special role also in bathrooms. In addition to the decorative function, wall lighting by the mirror is designed to improve the morning toilet and help with everyday activities such as makeup or shaving. The MODERN GLASS luminaire, which, despite its decorative form, can boast of increased tightness, will perfectly take care of proper lighting of the face. Situated on both sides of the mirror, it creates a symmetrical whole and properly lights the face without causing shadows. In addition, an interesting play of light and glass builds an intimate atmosphere when we feel like taking a long, hot bath. Also GOLO luminaire, with an increased IP44 class, perfectly combines minimalist aesthetics with functionality. Expressive light, emitted in the up&down direction, paints original patterns on the walls, adding them charm.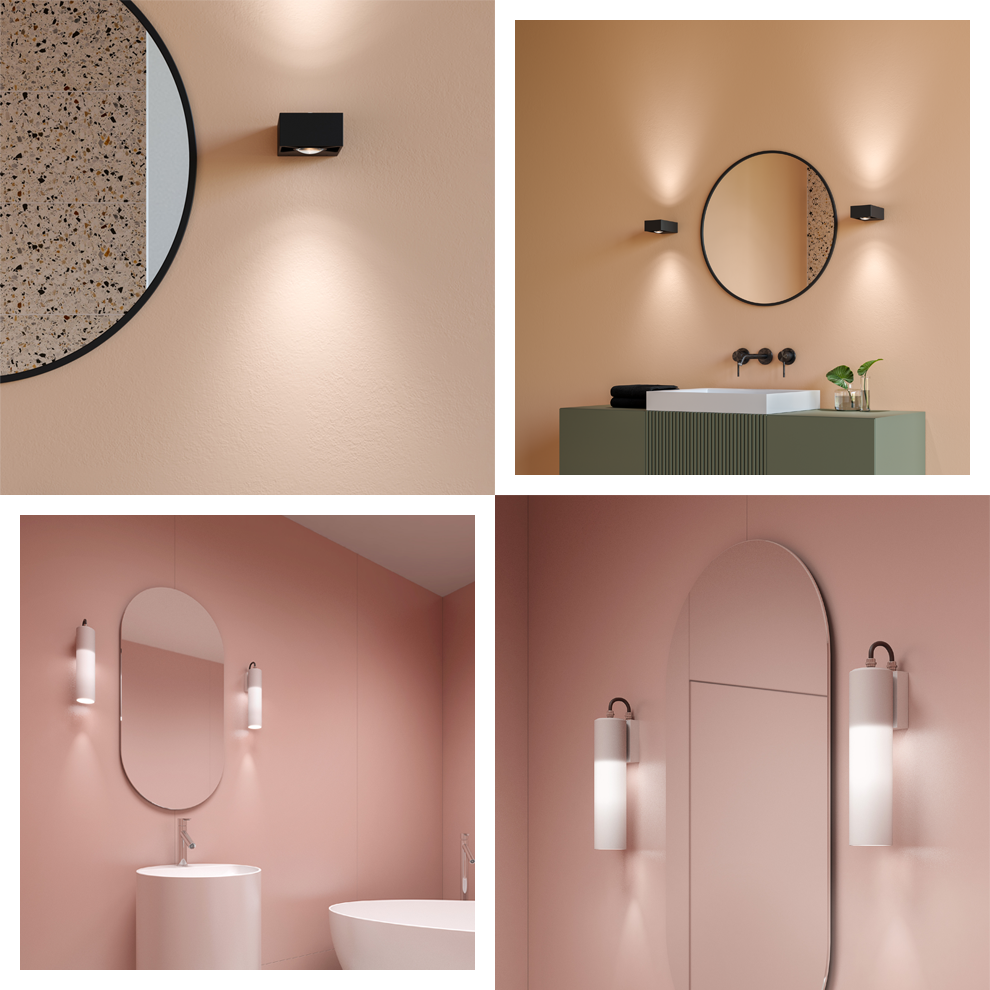 Multitasking specialists: modern wall lamps
The minimalistic form of wall lamps goes hand in hand with their functionality. Wall lighting allows you to create a pleasant atmosphere, does not irritate the senses, puts you in a blissful state of relaxation after a hard day. In addition, it is a great task and accent lighting solution – it is perfect wherever we need an additional beam of light. It is also worth emphasizing the decorative function of this type of lighting – sophisticated patterns painted on the walls add charm and warm the atmosphere of the interior, making it more cozy. Wall lamps, although inconspicuous, surprise with their multitasking skills, perfectly matching other elements of the decor and emphasizing the unique style of the arrangement.
Check out new wall lamps available in AQForm's offer!
^