Bathroom lighting: 8 facts to know when designing bathroom lighting for makeup purpose
---
To paraphrase words of the French painter Andre Derain: the essence of doing makeup is bathroom lighting*. It would seem that lighting design and makeup are not connected to each other, but a well-designed bathroom lighting can have a significant impact on improving the comfort of the daily toilet. Moreover, learning the needs of women who care for perfect makeup, can significantly facilitate the design of bathroom lighting. Having in mind all ladies (and lighting designers), we have collected our experiences and confronted them with signaled needs for bathroom lighting. See what conclusions we have reached.
1. The best lighting for everyday makeup is daylight
Makeup is best applied in lighting conditions similar to those in which the face will be viewed. That's why natural lighting is best for applying daily makeup. It is highly dispersed and renders the colours of illuminated objects very well. The probability of a daylight made makeup remaining perfect after moving into another room (and changing the lighting conditions) is very high. Does it mean that perfect make up is impossible if there is no window in your bathroom? Or should you even bother putting the make-up on when there is not enough sunlight and artificial bathroom lighting is necessary? Let's not get carried away – of course you can do it, you just need to choose the right lighting solution for the bathroom, lamps above the mirror and light sources.
2. How to choose bathroom lamps located above the mirror?
When makeup light considered, the mirror lighting is essential. Bathroom lamps above the mirror should be complementing the ceiling lighting. Lighting fixtures arranged on sides and (or) above the mirror are a very good solution. This solution will ensure that the shadow from general lighting will be minimized and the face will be well-lit. Since lamps at the mirror are within your reach, it is worth ensuring that they have a low operating temperature. It is also important to properly choose the power of luminaires. Other than a one strong lamp, the better solution is a few weaker points of light. High power single lamps cause more glare than the light from many light sources with lower powers. It is not a coincidence that professional makeup mirrors are surrounded with many small light bulbs with weaker powers. However, the choice of power and light sources is not everything - lighting fixtures are also important. The remaining question is – whether it is better to choose focused or diffused light.
3. Artificial lighting for bathroom should be diffused
The more focused the light, the stronger and more dense are shadows casted by illuminated objects. Strongly visible dark circles under your eyes and nose can cause uneven distribution of cosmetics, that's why when designing lighting for makeup it is worth taking care of the high diffusion of light in the room. Luminaires with shades or lampshades – which improve the diffusion of light emitted by the lamps – work best. Lightshades fulfill a similar function. A very interesting solution is a relatively new OLED technology. OLED panels shine with the whole surface and not with single LEDs, which is why their light is very soft and does not cast shadows. Illumination of the whole face will significantly improve the work of a powder brush or eyeliner. The good object lighting is not everything – it is equally important to think about the colour temperature in which makeup is being applied. In the end, no woman would like rouge to become a bronzer or vice versa due to bad light...
4. Cold or warm? Colour temperature in bathroom lighting
The colour temperature determines the impression of the colour of the light. What does it mean for makeup and bathroom lighting? As we have already mentioned, the best light for makeup is natural light, which has a fairly high colour temperature. When it is not available, you can reach for high light sources with CCT>5300K. Light with high colour temperatures (i.e. cool light) allows better rendering of colors than warm light. As it is best to put on makeup in conditions similar to those in which it will be viewed later, we can lit a makeup room with a warm light source if we know that our face will be then presented in interiors with light bulbs, halogens or candles. However, if the lighting conditions change into cold lighting, the same makeup will look bad. In such a situation, makeup may seem much too heavy (yes, there is a risk of the so-called 'mask' effect) and instead of covering defects it may highlight them. That's why it's better to choose lighting with cooler colours for makeup. Fortunately, more and more popular LED sources, both retrofits (halogen substitutes) and LED sources integrated with the lighting fixture, give us a hand here.
5. CRI - colour rendering index
The colour of light is not the last parameter that improves the makeup effect. Another one is the so-called CRI (colour rendering index) - the quality of colour reproduction factor. On CRI depends just how reliable the colours are, compared to daylight. The higher the CRI, the more reliable the colour is. For makeup, it is best to use CRI>90 light sources. We already know what parameters light sources should meet. How about the intensity?
6. Light intensity 100, 200, 300, 500 or 1000 lux?
When it comes to the comfort of a person applying makeup, the best light intensity on the face is between 500 and 1000 lux. It is a similar light to the conditions required for comfortable work at the desk. Such intensity will clearly illuminate the face, however the illumination should not be too excessive, as it may cause difficulties in assessing precision of the makeup. What is very important is that lighting should be designed in a way which minimizes, and preferably eliminates, the glare effect. It is very difficult to achieve when using conventional light sources. The situation gets better with LED light sources, especially if luminaires are fitted with covers. The already mentioned OLED source, in which the glare ratio is by far the lowest, works best in this regard. Our pursue of a well-designed bathroom lighting is almost complete. It is now time to consider the safety issue.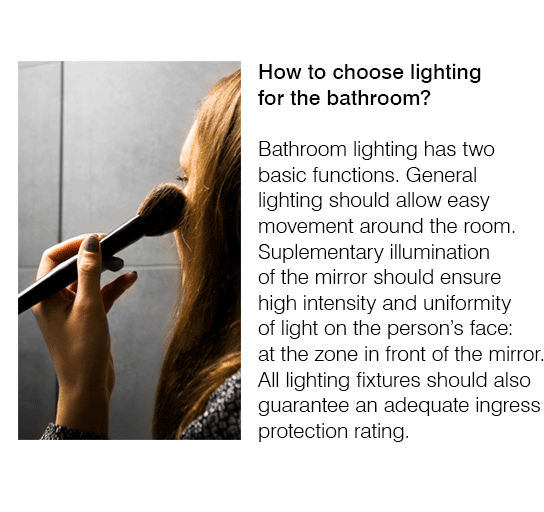 7. When water is around - luminaires with increased air-tightness are a must
Designing lighting in rooms with not-standard humidity conditions requires reaching for lighting fixtures with appropriate ingress protection rate. If lamps are located close to the sink, they should have increased IP index, preferably up to IP44 or higher. Hermetic fittings guarantee that difficult humidity conditions in the room, such as steam, will not affect their performance. Security in modern technology is very important. And so is the intelligent solution design...
8. Lighting control system
Intelligent control systems are becoming very popular in lighting technology. What are they? Intelligent lighting control systems allowing light dimming, are a way of manual adjustment of light intensity to the level required by the user at a given moment. If we choose luminaires with higher powers using control system, we can balance the relation between the intensity of light and the possible glare. Thanks to this system, bathroom lamps above the mirror will perform well in any scenario the user chooses.
Perfect bathroom lighting = perfect makeup?
Perfect makeup is a matter of real art. And so is a perfectly designed bathroom lighting. When choosing a lamp to a bathroom, it is worth noticing if the light diffusion degree, the colour rendering index and colour temperature correspond with the intended light scene. It is important to ensure that the supplementary lighting illuminates the shadow areas of the general lighting, so that the person standing in front of the mirror is illuminated with 500-1000 lux. At the same time, the luminaires should fulfill the air-tightness parameters. And although daylight is best for putting on makeup, we cannot always have it. Therefore, we should use lighting design solutions.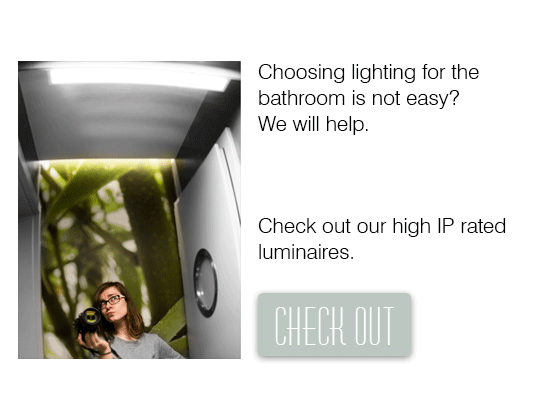 *The original sound of Andre Derain's words: "The substance of painting is light."
^