AQForm at Warsaw Home 2018
2018-08-28
On October 4-7, we cordially invite you to our stand at Warsaw Home. It is a four-day International Trade Fair of Interior Design, where a cross-section offer of producers, furniture distributors, decoration, finishes and accessories sector – including lighting – is being presented. The theme of this year's edition is "power". At the AQForm stand, we will show what the power of light is, meaning: what opportunities are opened by a wide range of modern lighting solutions both for designers and users and what determines the quality of light.
When: 04-07/10/2018 The event is divided into:

04-05/10/2018 - business days dedicated to representatives of the industry
06-07/10/2018 (weekend) - part of the event dedicated to all interested parties including business and individual clients

Where: Ptak Warsaw Expo | Al. Katowicka 62, 05-830 Nadarzyn, 114D Wolica
How to find us: AQForm stand D2.20 hall D
To enter the trade fair, registration is required. Registration for the event is available on the organizer's website: https://warsawhome.eu/
About Warsaw Home
Warsaw Home looks at the subject of finishes and interior design from a wide perspective. That is why this event is very interesting to architects, interior designers, business representatives and individual clients. It is the third edition of a dynamically developing trade fair – in 2016 the event debuted with a surface area of 24,000m², a year ago the exhibition area reached 60,000m², this year the forecast estimates up to 120,000m²! In 2017 Warsaw Home attracted 64,000 visitors. The fair is accompanied by lectures, meetings and discussions on design. This year's trade fair visitors will include Tom Dixon, one of the best-known contemporary designers.
AQForm stand at Warsaw Home 2018 (stand D2.20, hall D)
At the AQForm stand (D2.20) you will see what the power of light is. We will look inside the luminaire, show how the colour temperature affects the space and what is the popular CRI> 90. At Warsaw Home you will be able to see the cross-section offer of our new products - from sophisticated wall lamps, through effective and impressive general lighting to specialized solutions with significantly reduced glare. We will also display well-known items from our collections awarded at numerous competitions (including equilibra BALANS - Red Dot 2015, Special Mention German Design Award 2017). During Warsaw Home, apart from classics and new products from our catalogue, we will also present some product surprises. You're welcome!
To participate in the fair, you must register at the Warsaw Home organizers website: https://warsawhome.eu/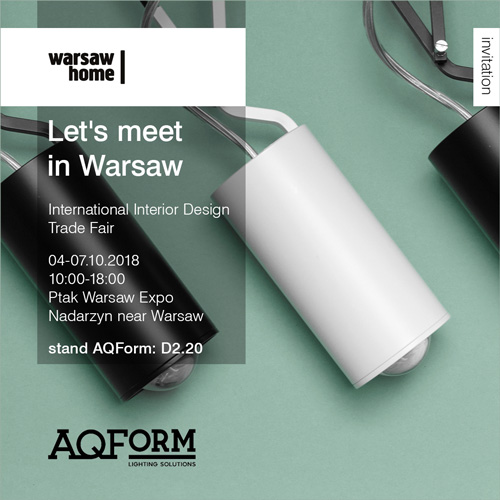 ^