AQForm at Architect@Work 2018 in Vienna
2018-10-01
In the second week of October, we are participating in Architect@Work in Vienna! On October 10th and 11th, the Wiener Stadthalle will turn into a design center, where our luminaires will also be displayed. Architect@Work is a series of meetings held in selected cities around the world. They are distinguished by their characteristic atmosphere - instead of dazzling stands, exhibitors use unified solutions that provide a neutral background for the presented products. Before each event, the organizers make a careful selection of exhibitors.
When: October 10th-11th 2018, 1pm-8pm
Where: Wiener Stadthalle (Vienna, Austria)
How to find us: Stand no. 103 (AQForm)
During the Architect@Work exhibition in Vienna, at our stand, you will be able to see the OLEDRIAN collection frame, which has won numerous international awards (including the iF Design Award). There will also be representatives of luminous lines with limited glare – on the example of RAFTER points you will be able to see what comfort brings our modern, refined optics offer. Our stand will also feature products from the popular Modern Glass collection (winner of the must have 2017 title) that combines hand-made glass shades with modern aluminum elements within the lighting fixture.
To participate in the event registration is necessary. Registration for the event is available on the organizer's website.
In order to arrange a meeting at the stand please contact us: office@aqform.com.
You're welcome!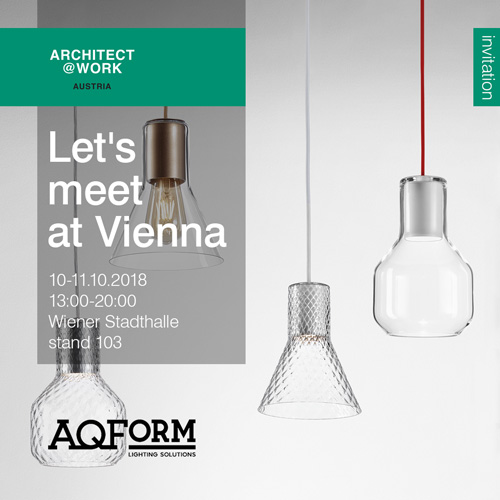 ^