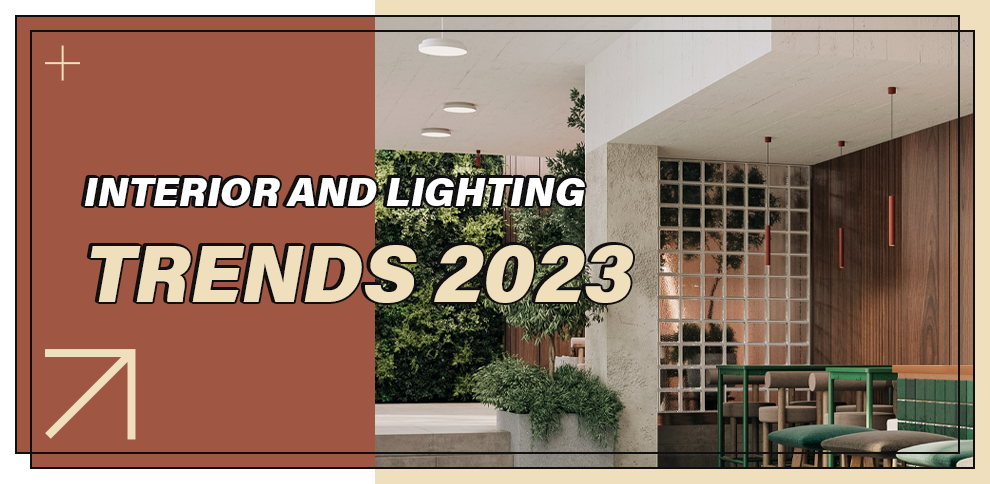 2023 Trends. Check what will be on top in interiors and lighting!
---
Natural colours, changing the role of light, organic shapes and roundness. These are just some of the trends which will be in reinforced in the coming months. How will 2023 surprise us? How to design to be on top while responding to the changing needs of users? Get to know the latest trends in the field of interiors and lighting and find out how to neatly combine them with each other!
Back to nature
This year's trends are inspired by nature and ecological solutions. And although this trend has been with us for a long time, it will definitely gain popularity this year. The answer to it is the japandi style, combining Japanese and Scandinavian aesthetics. Our new colour finishes: TAUPE and TERRACOTA correspond perfectly with it, which will add coziness to the interior, while being an interesting visual accent. As standard, selected products are available in these shades, however, on request, we can prepare most of our frames in new colours or in colour mixes.
Functionality and design in one
The year 2023 is marked by products that combine high technical parameters with a unique design. Such solutions not only surprise with their functionality, but also, thanks to their decorative character, they can become a hallmark of the entire arrangement. Our luminaires perfectly match this trend, in which high efficiency goes hand in hand with outstanding design. This duo is provided by FLYING BALL, a collection that combines decorative character with visual comfort. Stylish lampshades made of milk glass add timeless elegance to the interior, emitting pleasant, softly diffused light. Moreover, one luminaire can illuminate a space of up to several square meters. Thanks to this, FLYING BALL is a great proposition for modern lounges, restaurants, hotel lobbies or reception desks. Similarly to MODERN GLASS mini, which can boast of efficiency characteristic of architectural lighting. Its slender glass shades are an invitation to play with the composition, effectively illuminating the table or counter surface. Another proposal is a kind of harmony of parameters and opposing forms that together form a coherent whole. The outstanding design of IKI is the dot over the "i" in modern interiors. Depending on the version, the luminaire provides the right amount of light on the counter or allows you to create a pleasant, comfortable atmosphere.
Flexibility of solutions
Each interior, irrespective of its function, should flexibly follow the needs of its users. This possibility is guaranteed by tracks, which allow you to easily change the number, place and even the type of mounted luminaires. That is why we have extended the well-known MULTITRACK system with a new HIGH MULTITRACK variant, which allows to almost completely hide the luminaire mounting element. The growing fascination with minimalism inspired us to simplify the form of the tracks. The result was a MICROTRACK distinguished by its oval shape and small size. It's a real treat for all fans of curves and modest forms so fashionable this season!
Vogue for comfort
One can say that the sense of comfort is a timeless trend. In the end, each of us, regardless of the type of interior, likes to feel good in it. Growing awareness allows producers to meet the precise expectations of users. This is the function of modern lighting, which not only takes care of visual comfort, but also acoustic, such as AQfelt collection, which thanks to sound-absorbing material reduces reverberation time, improves speech understanding and reduces reverberation noise in the interior. In addition, depending on the version, RAFTER modules provide the right amount of light on the worktop, while OVALL BALL variant emits a softly diffused light that is pleasant to the user's eyesight. It is a functional and comfortable solution that can provide the right working conditions, especially in places where many people are present at the same time, e.g. in open-plan offices. Our next proposal will also be perfect for this type of rooms: OPTIMA - a luminaire adapted to the rhythm of office spaces. Depending on the variant, it emits task light, effectively illuminating the surface of the table top, while the up&down version directs a strong stream of wide beam upwards, ensuring comfortable general lighting.
And what about colours?
This year's choice of the Pantone Institute fell on the shade of Viva Magenta carmine red, associated with energy, courage and vitality. It works great in interiors and in art, being a distinctive accent. In order to bring out its depth, it is worth reaching for lighting with a high colour rendering index (CRI>90). Thanks to this, we will achieve the desired effect, and Viva Magenta will look exceptionally lively and joyful. For all colour enthusiasts in the interior, selected luminaires are now available in a shade of blue-green. According to a study conducted by one British company, a mixture of blue and green has been voted the world's favourite colour. In our offer, it is also available in combination with timeless gold.
Stay on top and focus on the latest trends!
Efficient and comfortable solutions will definitely reign this year. Decorative lighting will gain a completely new dimension, and the decorative form will be matched with high technical parameters. The arrangements will be dominated by curves and oval shapes, and natural shades will ensure harmony and balance in the interiors. We will pay more attention to flexibility, and one product will even combine several functions at the same time. We are still accompanied by minimalism on many levels, which will gain slightly new forms in aesthetics. We also don't forget about ecology, which translates into high efficiency of state-of-the-art solutions.
^