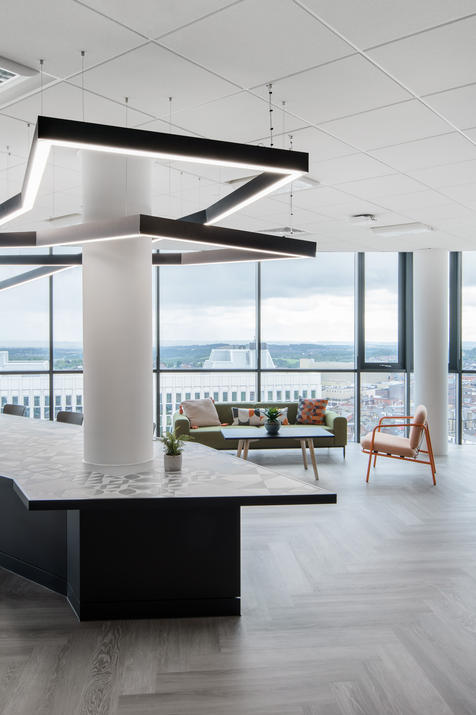 Berneslai Homes
Location — Barnsley, UK
Photographer — Jill Tate
Modern office design: idea with unusual lighting solution
In office spaces, apart from workstations, relaxation zones are also important. The main concept behind the design of Berneslai Homes, a branch office in northern England, was to create a communal space for its employees. The architect's aim was to arrange a space where a group of several people would be able to sit at a table together.
A longitudinal geometric counter, which corresponds with the rhythm of the columns, required appropriate lighting. Eventually, the selected option was flexible system luminaires TRU LED suspended, which guarantee visual comfort by emitting softly scattered light. Thanks to this, each detail is easily discernible when the weather outside is not favourable. This design is an excellent proof that modern lighting, apart from its main function, can become a distinctive feature of an interior as an unusual complement.
Products
used in project
Show us your project, where our lighting was used!
Photos are the best source of inspiration. It is also a credible evidence of successful projects. That is why sharing photos gives us great joy!
Do you want to show the world your project, which uses AQForm lighting? Click the button below, send photos along with a brief information about the realization, and we will take care for the rest. :)
Your project may appear on our inspiration page, on social media, in print or even in recognized interior design magazines among other places. Make your project an inspiration for new, well-lit interiors!
send your project