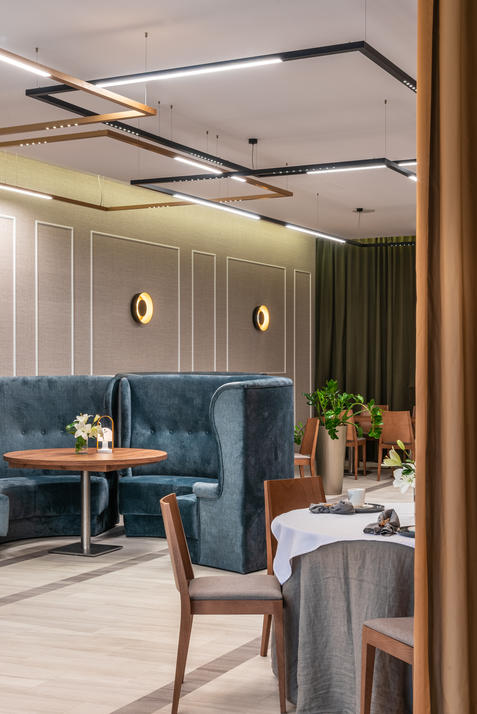 restauracja "Planeta"
Location — restauracja "Planeta"
Interior design — Przestrzeń Agnieszka Klimek
Customized lighting in an amazing restaurant
Some interiors require especially careful selection of the lighting. It was the case of the Planeta Restaurant, where the lack of natural light was a huge challenge. Therefore, it was necessary to create an appropriate ambience exclusively depending on artificial lighting. How did the architect and the designer, Agnieszka Klimek, deal with this task?
Oświetlenie na wymiar z funkcją sterowania
In her design she decided to use automatic controlled system luminaires.
Planeta is a restaurant for special occasions and that is why the opportunity to split the lighting into several separate circuits was so important for me. Thanks to this, it was possible to create an adequate atmosphere for a given occasion every day anew. Moreover, the investor's wish was to achieve the effect that would be as close as possible to natural daylight. The ability to control the lighting precisely and fine tune the amount of light in particular zones enables adjusting it to a particular situation. This is an ideal solution for public utility buildings, where the lighting must flexibly respond to specific needs" as the author describes the design.
-
Uniform illumination of the wall with RAFTER wall washer
Kiedy trzeba równomiernie rozświetlić całą powierzchnię ściany warto sięgnąć po oświetlenie z asymetryczną optyką takie jak RAFTER wall washer LED trim recessed. Light emitted by RAFTER wall washer LED trim recessed is reflected by tiny mirror which is integrated with luminaire optics. As a result, the luminaire illuminates the wall along its entire height, from the edge of the ceiling to the floor itself. The light is directed to wall instead of the floor even though luminaire is almost flushed with the ceiling surface.
It is thanks to the asymmetrical optics of the luminaire that it was possible to emphasize the phenomenal pattern on the restaurant wall so perfectly.
Products
used in project
Meet interior designers
Przestrzeń Agnieszka Klimek
Show us your project, where our lighting was used!
Photos are the best source of inspiration. It is also a credible evidence of successful projects. That is why sharing photos gives us great joy!
Do you want to show the world your project, which uses AQForm lighting? Click the button below, send photos along with a brief information about the realization, and we will take care for the rest. :)
Your project may appear on our inspiration page, on social media, in print or even in recognized interior design magazines among other places. Make your project an inspiration for new, well-lit interiors!
send your project